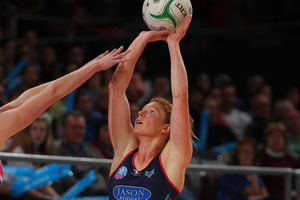 After their surprise 11-goal defeat last week, the Melbourne Vixens have returned to the winners' circle with a hard-fought 58-52 trans-Tasman netball league win over the Southern Steel on Monday night.
After a tense opening half, with the sides even at both the quarter and half-time breaks, it was a third-quarter blitz from Vixens goal attack Tegan Caldwell (33 goals from 37 attempts) that broke open the match at Melbourne's Hisense Arena.
In a five-minute period, Caldwell scored seven straight goals to create a match-winning advantage for her team who rose to second on the ladder.
Vixens coach Simone McKinnis gave special mention to the haul of Caldwell that sparked her side.
"Tegan had a fantastic game,'' said McKinnis.
"She had the movement, she was coming storing to the ball, taking the cuts and the drives she needed to take and finishing off with some excellent shooting.''
Led by their 1.98m goal shooter Jhaniele Fowler (45 goals from 50 attempts), the Steel had stuck with the much more fancied Vixens early in the game and had even grabbed a small two-goal break early in the third quarter.
McKinnis said her team had showed the defensive pressure - led by defensive duo Geva Mentor and Bianca Chatfield - they had lacked in their surprise loss to the Queensland Firebirds in round nine.
"We made the most of our opportunities in that third quarter, and scored off them. I thought the pressure that we had been applying throughout the match started to get the rewards in that third quarter,'' said McKinnis.
The Vixens will travel to Brisbane to face the Firebirds next week when they will need to curb the attack of towering goal attack Romelda Aiken.
"We were really disappointed last Sunday (against the Firebirds),'' said McKinnis.
"They (Vixens) know what they want to do differently and they have the opportunity within a tight time frame to turn that around.
- AAP