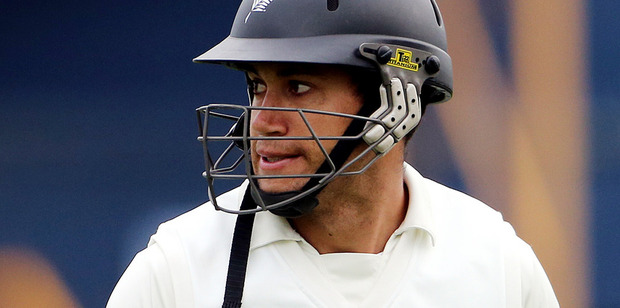 England 354 and 287-5 declared
New Zealand 174 and 158-6
Questions over New Zealand's inability to bat more than a couple of sessions against England will last long after the Headingley test.
The immediate impact is that there will be rain or inevitable pain for Kiwi fans tomorrow if the forecast is thwarted.
New Zealand limped to 158 for six when bad light stopped play but a handful more flight grenades from Graeme Swann and this test could be over.
Swann finished with figures of four for 61 from 21.4 overs. Brendon McCullum and Tim Southee were the not out batsmen with New Zealand 310 runs in deficit.
The visitors do not seem to possess the skills to cope, especially when supplemented by England's pace trio getting the odd delivery to generate steep bounce at the body.
Eyes will be trained on how the batting department, led by Bob Carter, counters such regular implosions.
Ross Taylor put his shoulders back and stood to his full professional height with a gutsy 70 which at least went some way to saving the test.
As gloom enveloped the ground, Taylor played in a positive fashion, disciplining himself to working the ball predominantly between cover and backward point. He played with fortitude for 159 minutes, albeit with an lbw escape on review at 47 and a reversed caught behind decision off Swann at 60. He'll also wake up with bruising to his right bicep.
Taylor received support from Dean Brownlie in a fourth wicket partnership of 79. It mightn't seem much but they resisted solidly in a team living in dread of a fourth consecutive collapse.
The New Zealanders were helped by England captain Alastair Cook's conservatism. At a rough guess he must look twice and then look again when he crosses the road (at a pedestrian crossing rather than jay-walking).
How he thought New Zealand, after being dismissed for 174, 68 and 207 in their last three innings could possibly reach the 468 runs required for victory is extraordinary.
Crikey, the sum of those three scores is only 449.
To put the prolonged declaration in context: the world record 4th innings chase is 418-7 (West Indies v Australia, 2003), the Headingley best is 404-3 (Australia v England, 1948) and New Zealand's best is 324-5 (v Pakistan, 1994).
Instead, Cook declared with military precision at 2pm.
Hamish Rutherford again looked composed on his way to 42 before he was caught bat/pad to Swann. Such a tame dismissal seems his ultimate nightmare. You suspect his preferred mode of dismissal is having a crack, preferably at width, outside the off stump.
His timing through the off side is a weapon. He succeeded more in New Zealand contending with less bounce and hitting down at the ball rather than on the up.
Earlier England's second innings gave the impression of a bullfight.
Alastair Cook and Jonathan Trott were the matadors and New Zealand's bowlers were toyed with like blunted bulls.
There's no doubt the visitors' bowling attack has been a potent force at times across the last five tests but they finally seemed bereft of ideas. It didn't help that Trent Boult remained incapacitated with an injury to his right side.
Toil wasn't lacking but the finesse of Cook (everywhere except mid-on) and Trott (notably through the timing of his late cuts) was supreme.
Cheeky singles broke up the strike well, too. Such was their dominance, Cook's dismissal for 130 lofting to mid-off didn't even produce an 'ooh' or an 'aah' from the bank holiday crowd. There was simply a standing ovation.
The New Zealand-England duel wasn't as barbaric as a real bullfight but, unless the weather intervenes, a coup de grace will surely be administered.
Cook saved his best innings for last in the five tests against New Zealand. It was his 25th test century, extending his England record. Wally Hammond, Kevin Pietersen, Colin Cowdrey and Geoffrey Boycott slot in behind on 22.
Cook's total of 25 centuries is more than the entire New Zealand XI who have 24. To rub in the disparity, Cook has 92 test caps; the New Zealanders with centuries have a combined 233.
Before the test New Zealand captain Brendon McCullum said he didn't want to add to Kane Williamson's burgeoning list of responsibilities as the vice-captain batting at No 3.

"He's a viable spin option but it's unfair to expect him to bank 20-25 overs."
He was forced to rethink Williamson's role with the impact of England off-spinner Graeme Swann's four for 42 and Boult's absence. By lunch Williamson had bowled 24 overs in England's second innings and taken all three wickets for 68. He bowled nine overs in the first innings.
Meanwhile, in a case of "what might've been", Daniel Vettori starred for the New Zealand one-day side in a warm-up match against a Northamptonshire XI.
He made 150 retired with the bat as part of New Zealand's 308. He also took four wickets as the home side was dismissed for 130.