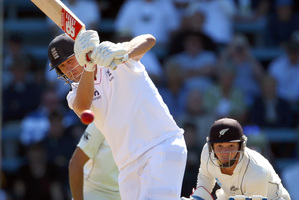 The fourth morning of the second test at Headingley gave the impression of a bullfight.
England, through the batting of Alastair Cook and Jonathan Trott, were the matadors; New Zealand's bowlers were toyed with like blunted bulls.
There's no doubt the visitors' bowling attack has been a potent force at times across the last five tests but they finally seemed bereft of ideas. It didn't help that Trent Boult remained off the field with an injury to his right side. Toil wasn't lacking but the finesse of Cook (everywhere except mid-on) and Trott (notably through the timing of his late cuts) was captivating. Cheeky singles broke up the strike well, too. Such was their dominance, Cook's dismissal for 130 lofting to mid-off didn't even produce an 'ooh' or an 'aah' from the bank holiday crowd. Instead there was simply a standing ovation.
The New Zealand-England duel wasn't as barbaric as a real bullfight but, unless the weather mercifully intervenes, it will certainly be as emphatic when the coup de grace is administered.
At lunch England had moved to 249 for three, a lead of 429 with Trott 76 and Joe Root 20. The threat of rain this series has been large but its impact has been minimal in practice as another fine day dawned.
Cook saved his best innings for last in the five tests against New Zealand. It was his 25th test century, extending his England record. Wally Hammond, Kevin Pietersen, Colin Cowdrey and Geoffrey Boycott slot in behind on 22. Cook's total of 25 centuries is more than the entire New Zealand XI who have 24. To rub in the disparity, Cook has 92 test caps; the New Zealanders with centuries have a combined 233.
Before the test New Zealand captain Brendon McCullum said he didn't want to add to Kane Williamson's burgeoning list of responsibilities as the vice-captain batting at No 3.
"He's a viable spin option but it's unfair to expect him to bank 20-25 overs. However, he has taken wickets at key moments, is growing in stature within the team and his bowling is a symbol of that."
He was forced to rethink Williamson's role with the impact of England off-spinner Graeme Swann's four for 42 and Boult's absence. By lunch Williamson had bowled 24 overs in England's second innings and taken all three wickets for 68. He bowled nine overs in the first innings.
Victory or even a draw looks distant for New Zealand - unless the forecasts fulfil their promise. The highest successful fourth innings chase at Headingley was 404 by Don Bradman's Australian 'Invincibles' against England in 1948.
New Zealand's highest chase to win a test was 324 for five against Pakistan at Christchurch in 1994.
England 354 and 249-3
New Zealand 174