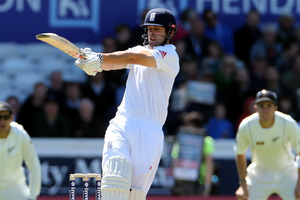 England's decision not to enforce the follow-on in the second cricket test against New Zealand at Headingley has baffled many.
Why would captain Alastair Cook, with a lead of 180 (follow-ons reduce to 150 runs for four-day matches) and his bowlers still reasonably fresh after just 43.4 overs' work, opt to bat for a second time rather than compound the pressure on New Zealand?
Any Leeds forecast seemed to indicate rain. Why not risk a decent crack at the New Zealanders to win the test series 2-0?
Surely England could not have felt the threat of part-time off-spinner Kane Williamson loomed so large in the left-armers' footmarks that they should avoid batting fourth at all costs?
A paltry chase was in the offing. Regardless of the match result, the decision was hardly ruthless.
A more compelling case suggests the visitors' bowling attack was used as Ashes fodder; an opportunity for an open wicket before Australia, the main course of the summer, arrived. New Zealand had become what they feared ... an entree.
It seems the England top order, Root excepted, felt they could use a few extra real deliveries in the middle rather than the nets.
Graeme Swann was having none of that theory after the third day.
"We felt the best way to win was to put a fatigued New Zealand into the field, which I'm sure their bowlers weren't too happy about, and you can't blame them. We aimed to build a formidable lead and let the pitch deteriorate further to give ourselves the best chance to bowl them out.
"Obviously Cooky gets input from other players but it was a unanimous decision with a lot of time left in the game."
Swann says England ignored the forecast.
"If you start looking at things like that you're missing the point. If it rains on Tuesday, so be it. If it denies us the chance to win the game we'll probably say we should've erred the other way. I can't remember sitting in a professional dressing room where a two-day forecast has been believed anyway."
Still, it's hard to believe England wouldn't be poring over meteorological charts if they were on the cusp of an Ashes triumph.
New Zealand's Ross Taylor played the diplomat but seemed surprised.
"I guess it's a bob each way. If we had batted again and got a lead of 150 it might have been difficult, but England have dictated this game.
"Sometimes when you bat like we did - obviously it's twice in a row - it would have been good to get out there again. The way Ruds [Hamish Rutherford] and Fults [Peter Fulton] batted [on their way to an opening stand of 55] they were looking forward to it.
"With the middle order failure it's sometimes easier to get back on the horse."