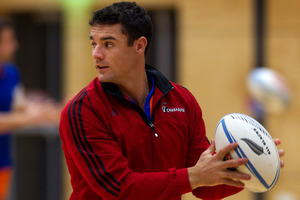 Dan Carter's short-term future in the All Blacks appears to be in the playmaker's role, despite his ability to play in the midfield and the increasing competition from Aaron Cruden.
Carter, 31, began his All Black career at second-five and finished several tests in that position last year, moving out one place to accommodate Cruden.
With a potential lack of depth in the midfield this year through injuries to Ma'a Nonu and Conrad Smith and the impending departures to Japan of Richard Kahui (injury permitting) and Tamati Ellison, Carter moving back to second-five was seen as one way of strengthening that area, but it's not a serious option, according to assistant coach Ian Foster.
"Yes, it's possible but we are reasonably happy with our midfield, to be honest," Foster said at the All Black training camp at Mt Maunganui yesterday. "I think we've got some really good options in there. I know there's been a lot of talk about how we're struggling there but it's shaping up pretty good."
Nonu has returned to the Highlanders from his knee injury and Smith is hopeful of playing for the Hurricanes against the Brumbies this weekend after a bad concussion just over three weeks ago.
If fit, both are shoo-ins for the midfield against France for the first test at Eden Park on June 8. Nonu's Highlanders teammate Ben Smith has been outstanding at fullback but is likely to play a bench role, covering midfield and outside backs. Likewise, it would be a shock to see anyone other than Carter start at No10, despite the claims from 24-year-old Cruden, who again shaded him at Waikato Stadium during the Chiefs' 28-19 victory at the weekend.
Foster acknowledged Cruden's form, but added that Carter had also been playing well recently after a break for paternity leave which was extended by a hamstring injury.
The backs coach was also at pains to point out how well Hurricane Beauden Barrett was playing.
"There's actually three 10s here," Foster said. "Beaudie, you've got to put him in the mix too, he's been playing well recently.
"This time of year when you get those head-to-head battles, it's always interesting the comparisons, but I think all three of them have played very good rugby in the last month and we're happy with it."
Foster suggested the All Blacks wouldn't be changing their attack too much in the three-test series against France, adding they would just try to "add a bit of colour" to break down what he said were increasingly flat defensive lines.
"It's not radical, it's just designed to move it a little bit to give ourselves a few more options."
• Hurricanes prop Jeffery Toomaga-Allen has been ruled out for the rest of the season after a knee injury during his team's loss to Chiefs a fortnight ago. Toomaga-Allen, named in the first All Black wider training group only to have to withdraw after the injury, has a torn MCL, but surgery is not required.APNZ
- APNZ