Adore Me will be busy over the next few months as she pursues more group one glory.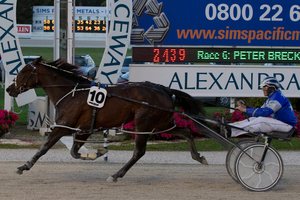 Pacing's most stunning debut season is in for a shock extension.
Which is just the news rivals of champion pacing filly Adore Me didn't want to hear.
The superstar 3-year-old has won 10 of her 11 starts in her first season of racing, her only defeat having come when second against a vintage crop of colts in the Northern Derby.
Trainer Mark Purdon expected the winning rampage to come to an end after the Harness Jewels this Saturday, when Adore Me is $1.05 to win her $150,000 division.
However, Purdon was surprised when a call from part-owner Paul Kenny explained Adore Me has even richer targets ahead.
Initially, Purdon had been informed Adore Me was not eligible for the A$175,000 Breeders Crown Final in Victoria in August so was thinking she would head to the spelling paddock after Saturday.
But Kenny informed Purdon that Adore Me is very much eligible for the Breeders Crown and that means all going well on Saturday she will be set for a five-race Australian campaign.
"I was shocked to hear that but if she is eligible then she really should go," said Purdon.
"And if we are going there [Victoria], then she might as well head to Queensland for the Oaks races up there to keep her ticking over."
That is likely to mean a campaign comprising the Gold Coast Oaks in late June, followed by the Queensland Oaks a week later.
Then Adore Me could stay in Queensland or head to Victoria for her heat, semifinal and final of the Breeders Crown.
The Queensland detour makes sense because those races will be bypassed by Australia's best filly Frith, so Adore Me will find herself in her usual unbackable favourite role.
The extended campaign means by the end of her debut season Adore Me could have raced 17 times, which sounds enormously taxing but the evidence suggests that hasn't been the case.
Apart from her hard run in the Derby when second to Ohoka Punter, Adore Me has beaten her filly rivals by an average of 4 lengths so hasn't really had to dig deep too often.
While a fully fit Frith would give her something to chase in the ABC final, that will be the last race of her season anyway and if she remains unbeaten against her own sex she could head for her break the winner of an incredible seven group ones in eight months.
A huge or record-setting win this Saturday may see Adore Me close the gap on Terror To Love, who races on Sunday, in Horse of the Year voting but any subsequent Australian victories are unlikely to help.
Feature-race Australian wins rarely seem to factor in the mind of Horse of the Year voters, with the late-night features often missed by some and given little local coverage.
While the Breeders Crown creates a splash in New Zealand racingbecause it is broadcast on a Sunday afternoon it is not until late August because, for reasons largely unknown, the Australian harness racing season runs until August 31.
With the Horse of the Year awarded on July 27, that will be about three weeks too late to help Adore Me in her quest for the title.
Still, while she has created more interest in the second half of the season than Terror To Love, the big horse still deserves favouritism for the title.
While beaten in most of his major races this year, he has won the New Zealand and Easter Cups, the Ashburton Flying Stakes, finished second in the Auckland Cup and Miracle Mile and fourth in the Interdominion Final.
Terror To Love is $1.10 to win his Jewels division on Sunday, which should seal the deal.