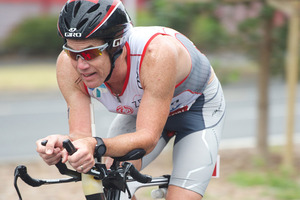 New Zealander Cameron Brown has dominated the inaugural Fiji International Triathlon at the weekend.
Brown, who is building up for Ironman Cairns in two weeks, won the half-distance race in 3:47.44 by 12 minutes from Australian Michael Prince.
Brown was fourth after the 2km swim, just behind the leaders in the balmy 25C water off Denarau.
He put the pressure on early in the 90km bike, which was three laps from Denarau to Nadi and return on new, pristine roads. He went through the first 40km in under an hour and came off the bike with Australian Ben Wriede but well clear of any others. The Australian tried to push hard off the bike on the 20km run around the Denerau Golf Club and soon paid for his hard work as he cracked and eventually finished well back in third.
Brown pushed clear to win in 3:47.44.
"It was an excellent race and a really good course,'' Brown said. "As the weather has turned pretty wet and cold at home, it was fantastic to get to some hot weather and a good hit-out for me.
"I am back to Auckland for another full week of training before heading to Cairns which will be another challenging race in the heat and with a quality field.''
Results, Fiji International Triathlon (2km swim, 90km bike, 21km run: Cameron Brown (NZL) 3:47.44, 1; Michael Prince (AUS) 3:59.55, 2; Ben Wriede (AUS) 4:08.29, 3.
- APNZ