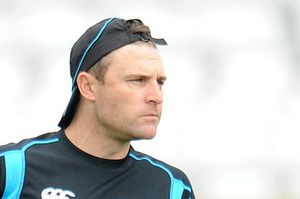 Beyond concerns about New Zealand's struggle to dismiss England in the second test at Headingley lies the wicketkeeping fitness of Brendon McCullum.
In a needs-must scenario, McCullum assumed the gloves after B-J Watling was ruled out with a strained left knee.
It's McCullum's first test behind the stumps since playing Australia in March 2010. The New Zealand captain is playing his 77th consecutive test since debuting in March 2004. The first 51 were as keeper.
Extending from his current limited overs work into a test was always going to be a daunting prospect for McCullum's gluteal muscles, not to mention his back and knees.
Tom Latham was an option - he kept against Derbyshire - but it was logical to call on experience to replace Watling in such an important match.
If the dressing room talk is any gauge, it has been a painful experience for McCullum and raises questions whether Luke Ronchi might be the best option to keep when New Zealand starts the Champions Trophy.
The former Australian limited overs player is already charged with opening the batting but is an assured option with the gloves.
Pre-test McCullum speculated whether his body would survive.
"Ask me in five days. I've got a job to focus on. It's definitely not long term because my body can't handle those demands."
McCullum's wicketkeeping was tidy on the opening day, which ended with England 337 for seven. He took five catches in an innings for the fourth time and conceded five byes. They came from two deliveries, one a sloppy Trent Boult effort down the legside for four in the 27th over and another when he dropped a ball, again down leg from Boult in the 54th. He deserved to put his feet up.
Boult said the skipper was feeling it in the dressing room.
"He's a bit ginger having not done that in a while [in a test match]. I thought he kept well. There were a few byes but his glovework was sound. He may be a bit stiff from that first blowout."
McCullum may be saved further exertion. Local weather forecasts predict rain to disrupt the final day's play, if not earlier, although that probably wouldn't rule out at least some glovework in the second innings.
The captain would probably be helped by increased New Zealand bowling accuracy, where the English batsmen play more often rather than letting the ball go into McCullum's gloves.
Boult said that area needed improvement. "A little bit. It's nice to have four seamers going out there, but it's a two-paced wicket and missing getting the odd ball on target in each over was frustrating. We didn't strung together as many maidens or dot ball sequences either."