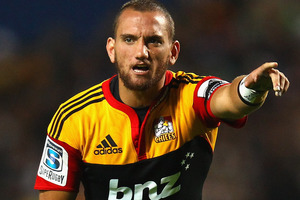 How important was that Chiefs win over the Crusaders? "Massive'', says playmaker Aaron Cruden, who has suggested it will give the younger members of his team a new belief in their abilities.
That has ominous connotations for the opposition, because Bundee Aki and Co were very good during the 28-19 victory at Waikato Stadium, a win which cements their place at the top of the New Zealand conference.
Second-five Aki, 23, and in his first season at this level, had a hand in several big moments - his desperate tackle thwarted the charging Kieran Read when a try to the Crusaders captain after the break could well have been too much for the Chiefs to overcome. He also scored the late try for his team to hand his side a 25-19 lead. Minutes earlier his obstruction on defender Tom Taylor led to Charlie Ngatai's try being ruled out.
"It's massive for us,'' said Cruden of the win. "It was thrown around that test match intensity was what it was going to be and that's what it was.
It is especially big for this group as there are a lot of fresh faces new to Super Rugby here this year. To get a victory over the Crusaders who have been the benchmark for Super Rugby is fantastic.''
Players such as Aki, centre Ngatai and wing Patrick Osborne all stood up in what was a tense and absorbing battle between the two New Zealand heavyweights.
Cruden wasn't bad either. He probably won the first-five showdown against All Black rival Dan Carter, beginning with his charge-down of Carter's attempted clearance which led to a deserved try.
Cruden's skipper Craig Clarke also got in on the act, charging down a Tom Marshall kick to score in the first half.
The 24-year-old Cruden said it was a tactic the Chiefs often employed - but it wasn't specific to the Crusaders.
"I don't think I've seen two before,'' Cruden said of his and Clarke's tries from charge-downs. ``It is something we work on each week. If we can make first-up tackles in their end we should be able to apply pressure to their kickers and luckily for us it paid off and we were able to come away with the best result possible.''
This was a match in which all doubts about whether the Chiefs can defend their title were surely cast aside. It was their most complete performance of the season and there is no question it was a victory built on the foundations of a tight defence.
The Crusaders could only score with a rolling maul - Matt Todd awarded the try - and their 10-plus minutes of defending their line after halftime were inspirational.
"Early on in that second half they were on our line and exerting a lot of pressure but we were able to absorb that and work our way back down into their half,'' Cruden said. ``I know myself that when you can't cross the line it just seems to nag away at you.''
- APNZ