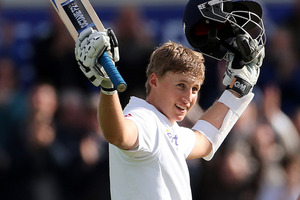 Until his dismissal for 104, the only time England batsman Joe Root let down his guard against New Zealand was when he scored the runs which brought him a maiden test century.
Like an ending to any self-respecting Scooby-Doo episode, he ripped off a dour, earnest, reserved mask to reveal unabashed joy as he boogied down the wicket to his own imaginary tune. One suspects it's just the opening track on a whopping compilation album for the 22-year-old in the English test team.
"It wasn't meant to be [a dance move],'' Root said sheepishly, "but emotions took over and that's the result. I got lost in the moment a bit, because you only get the first one once. I tried to enjoy it.''
Before a steer through the slips to bring up 100, his phlegmatic disposition caved just once on 92 when Neil Wagner deflected a Jonny Bairstow straight drive onto the stumps. Root had the presence of mind to get a foot inside the popping crease. He smiled wanly. One run later Brendon McCullum reviewed what he suspected was an edge down the legside. It turned out to be a tickle off the pad.
"I tried to get out twice in the 90s,'' Root deadpanned, ``probably in the two worst ways possible, but I wouldn't say I was nervous. I was excited more than anything. I was confident I didn't hit it.
"With Jonny's straight drive and Neil Wagner getting a touch, I just made sure I got my foot back. I looked at the screen and was pretty sure. I couldn't do much about it.''
There was still room to chastise himself despite the 167-ball, 228-minute stay at the crease, including five anxious deliveries before lunch.
"I was disappointed I got out as soon as the second new ball arrived because it exposed a new batsman. That's exactly what you don't want. Jonny and I had just got a hundred partnership and knew the next 10 overs were crucial. Fortunately our guys batted well to get a partnership together afterwards.''
The Yorkshire angle will get plenty of column inches and airtime but Root's nod in the direction of purists makes the innings more welcome. Sure, he sneaked in a reverse sweep at one point but his technical savvy and measured temperament make him part of the future shop window to the test game.
New Zealanders saw a taste of it with 40 and 71 at Lord's last week and at home where he scored 56, 79 not out and 28 not out in the one-day internationals. He can be a youthful assassin to bowling attacks.
New Zealand's Trent Boult acknowledged Root stymied their progress after they struck back to have England 67 for three at lunch.
"He played extremely well. He's got a good game plan and scores all around the ground. The wicket was pretty slow so we couldn't bounce him or look to push him back.''
The perception of Root playing shots all around the ground makes his wagon wheel curious reading. The reality is just two runs came in the traditional mid-off/mid-on `V'. Instead he made 55 between cover and gully while peppering 41 between mid-wicket and backward square leg. He gives himself time to play, uses the pace of the ball and doesn't feel compelled to dominate bowlers down the ground.
Root might present a youthful demeanour but one suspects that line of thought will be dispelled quickly with further cricketing dominance.
In a spot of, presumably, stand-up Twitter comedy, Kevin Pietersen tweeted: ``Today is historic. The first 9yr old to score a Test 100. Huge congrats.''
Root smiled when asked to respond: ``It's not something I'm too fussed about, I can't help it.''