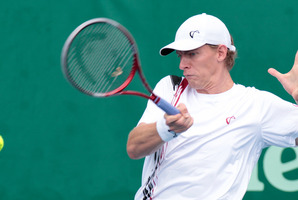 Former New Zealand Davis Cup representative GD Jones was packing his bags for New York, dreams of a long professional tennis career over.
With an MBA the culmination of years of academic study at home and abroad, Jones was eyeing up America's financial capital; as the door to tennis was closing, another opened.
A call from a South African friend forced that tennis door open again - but as a coach, not a player. Still relatively young at 27, Jones is working with South Africa's world No27, Kevin Anderson, a contender at this week's French Open.
Jones knew Anderson from their time at Chicago's University of Illinois but the Kiwi had swapped his headband for a hedge fund when Anderson came calling.
"I had been doing an internship at a hedge fund in New York," Jones said on the sidelines of the ATP Tour's Masters 1000 in Rome. "I'd been looking to get into the finance world and, coincidentally, I was looking for a job.
I had missed the boat a bit with the graduate recruiting and it just so happened that that week Kev asked me if I'd coach him."
Anderson had split with his long-time South African coach Louis Vosloo after a successful two-and-a-half year partnership which netted him two ATP singles titles as well as a ranking inside the world's top 50. The burly South African travelled to New Zealand for a month-long training block last December and, with an entry confirmed at Auckland's Heineken Open this year, the partnership with Jones was formalised.
"We played a little bit of doubles together [at university] and I did a little bit of work with him in 2010," Jones explained. "I was coaching my sister, Sacha, and she had a period off with injury and I did a few tournaments with Kevin then ... we gelled well together."
Having chased the dream of being a top professional player for so long, Jones is philosophical about his own on-court career. He reached a career high singles world ranking of 604 in November 2008 but his time on the Tour was blighted by form fluctuations. He spent large periods competing at the lower-tier Futures events.
But he seems a man with few regrets and with Anderson climbing to a career high world ranking - and two more ATP Tour finals since the New Zealander came on board - Jones may have found his calling.
"I wasn't physically gifted [as a player]," Jones admitted. "I didn't have a big serve, I wasn't very fast, so I had to think my way through a lot of tennis matches. When I was at university, I was on a team, and for a lot of that time, I was badly injured. I took to looking at how other people were doing things and helping some of the guys on my team.
"So there is definitely a relationship between my limitations as a player, which I think have probably turned out to be positives as a coach.
"It was my dream since I was five," he said of competing on the men's professional ATP Tour. "It wasn't a dream I was able to achieve but to now be part of someone else's dream and make a contribution towards the success of that is great.
"Tennis has been a big part of my life and it's something I'm really passionate about. It's really exciting watching some of these matches. You definitely feel the tension and excitement as a coach."
With New Zealand having slipped to group II in Asia/Oceania qualifying for the Davis Cup, the depth of players and coaches is cause for concern. At No91 in singles, Marina Erakovic is the only Kiwi inside the top 100 in either the men's or women's world rankings. New Zealand men have failed to feature near the elite since Brett Steven was world No32 in February 1996.
Jones may have given up hope of personally breaking through and emulating Steven and other celebrated New Zealand tennis stars such as Chris Lewis and Kelly Evernden but his experience coaching on the ATP Tour begs the question whether he may yet have something more to offer the sport.
"If I could be helpful in moving the game forward [in New Zealand], I'd always like to think I could help," Jones said. "Tennis in New Zealand is a small world and I have excellent relationships with the players and the coaches in New Zealand.
"It's never been a plan to have a career as a coach. The pro Tour is a very limited number of players and most of them rightly want experienced coaches who have played at the highest level of the game or have coached players at the highest level of the game. So it's not an easy path."