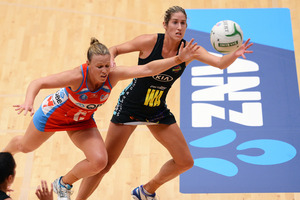 It wasn't supposed to be this way but, just like last year, the Waikato Bay of Plenty Magic are on the brink of ANZ Championship oblivion.
Though the team have an extra motivating factor with coach Noeline Taurua's announcement last week that she will step aside at the end of this season, they face another tightrope act just to make the play-offs.
With five games remaining, the Magic must win at least four to move into the top four ahead of the Steel and hold off the Pulse and Fever.
After last year's triumph, and then a barnstorming early start to this season, they were odds-on to break the 'champions curse'. They looked better than ever.
But losses to the Fever, Pulse, Vixens and Steel and form wobbles of some key players have seen them dive down the table.
"We are in the same predicament," says Taurua. "Though the story is a bit different this year. Last year we were flying at this stage."
According to Taurua, several factors have combined in this season's struggles. She admits the team have been "more unsettled"at goal attack, with Ellen Halpenny and Jess Waitapu struggling to match the displays of Julianna Naoupu last season. Khao Watts, who was a rookie revelation in 2012, has suffered some second year blues, sharing wing attack duties with Jess Tuki.
The team were also determined to re-invent themselves this season. They knew that resting on their laurels would see them fall by the wayside, like every other defending champion in the ANZ Championship since 2009. Unfortunately change can be risky and the attempts to push new boundaries have led to some uncertainty on the court.
Taurua's team have struggled consistently in the second quarter all season, though only perhaps the games against the Fever and the Thunderbirds could be counted as truly poor performances. They have also become the team with the target on the backs.
"Everyone brings their 'A' game against us," says Taurua. "Everyone wants to knock off the champions. Look at Jodi Brown [Steel] last week - she has been averaging around 10 goals a match from goal attack and she pops up with 21 goals at 80 per cent."
Halpenny is a crucial element of the run in. She has improved across the season, after initially struggling to adapt to the vastly contrasting environments of the Tactix and the Magic.
"She has a good netball brain, thinks strategically and has a good long shot," says Taurua. "She now has a better awareness of her role. It's about making the right decisions at the right time."
Says Halpenny: "It was a little bit overwhelming at first. There is much more individual responsibility here and I am still finding my feet at goal attack. My shooting volume is good, it is just about finishing it off at the critical moments. It's about shooting smarts and making sure I take the best possible option."
The Magic still lean heavily on Irene van Dyk, who has had moments of real struggle this year.
"I think we realised after the Fever match that we need to support Irene more," says Halpenny. "Obviously she lifts the whole team but we need to lift her too."
Another end of season escape act starts today on the Gold Coast, against the formidable Firebirds. The Queenslanders slumped badly last year (also as champions) but have regained their imperious 2011 form this year, a one point loss to the table topping Thunderbirds their only blemish so far.
"I think in a way they are even more solid than 2011," says Taurua. "They are very balanced, work incredibly hard and are as physical as ever. For us it is very clear [today]; either we do or we don't. But we love those kind of challenges."