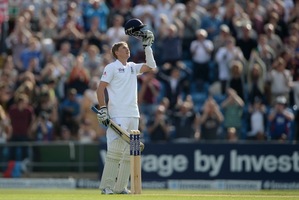 Stumps day two - England 337/7
The standing ovation said much for the hope England batsman Joe Root generates in his home county of Yorkshire... and that was just for the half-century.

The Headingley crowd oozed parochialism - and it was deserved - as Root reached his maiden test hundred steering a ball through vacant third slip for four. The 22-year-old became the first Yorkshireman to achieve the feat at his home ground. He celebrated with a fist pump as he danced towards county teammate Jonny Bairstow. They shared a 134-run fifth-wicket partnership until Root was caught behind from Trent Boult's first delivery with the second new ball. Bairstow mimicked Root shortly afterwards for 64.
The home crowd craves another Len Hutton, Geoffrey Boycott or Michael Vaughan as their own run-scoring machine in the England set-up. They're onto a winner in Root, whose 104 in his sixth test helped cement England's dominance at 337 for seven at stumps on the second day of the second test.
He needs 139 runs to reach 1000 runs before the end of May in eight turns at bat. Only Don Bradman has done it in fewer. The second innings is his last chance.

Root batted and the New Zealanders toiled. He pressed forward as a trigger at the point of delivery and eased back to a neutral position before choosing his strokes methodically. He earned the right to bat on a wicket that held few perils after the negotiation of the first session. Root's cover drive was the best example from New Zealand outswingers: he waited for the ball and didn't try to hit it too hard. He eventually managed to distract the locals from building a snake of plastic beer cups in the west stand. The structure was no Eiffel Tower - or even Tower of Pisa - but covered an entire 20m block of seats nonetheless.

The earliest roar came when Root emerged to face the remaining five balls of the first session. No pressure, son, in your first home test...

The circumstances washed over him without trace of residue. His phlegmatic disposition caved just once on 92 when Neil Wagner deflected a Bairstow straight drive onto the stumps. Root had the presence of mind to get a foot inside the popping crease. He smiled wanly. One run later McCullum reviewed a faulty legside catch.

The visitors threatened with the wickets of Jonathan Trott and Alastair Cook in successive balls in the two overs before lunch, but apart from a sharp Brendon McCullum catch off Kane Williamson to dismiss Ian Bell for 30 in the middle session, this was England's day.

New Zealand's decision to play four pace bowlers looked forlorn when Williamson was brought on as early as the 48th over. He also opened after tea but, in his third over in, he was hit for 19 runs, including three consecutive fours from Root.

Tim Southee produced a consistent line and full deliveries to make the English play. He tempted Compton into a false drive from a ball moving away. England (apart from Trott's pre-lunch edge off Wagner) disciplined themselves well against any left-arm temptations until Boult's return with the second new ball. He finished with three for 48.

Captain Alastair Cook justified his decision to bat by easing to 34 with support from Trott on 28. They executed drives from mid-off to cover point and glanced with finesse. However, Cook being caught for the ninth consecutive innings raises concerns.

The early difficulties were not wholly New Zealand's fault. England were judicious about what they played. At one point Cook remained scoreless for 29 balls as patience endured. He has devoted hours recently to facing deliveries matching those of a left-armer coming over the wicket. Cook has been out to left-armers six times in seven innings.

Boult can take Cook's homework as a mark of respect but, while his first spell (six overs, none for six) looked good on the scorecard, he was not as taxing as Southee (seven overs, one for 22).

McCullum's wicketkeeping was tidy and harked to the first 51 tests of his career with the gloves. He took five catches in an innings for the fourth time (with the prospect of more to come) and conceded five byes. They came from two deliveries, one a sloppy Boult delivery down the legside for four in the 27th over and another when he dropped a ball, again down leg in the 54th. He deserved to put his feet up. Brownlie's hands at third slip were reliable with two catches.

The sleeting winds which Leeds produced on "miserable Friday" was matched by pristine conditions on "dress up Saturday" as costume-clad punters swarmed into a sun-bathed ground which appeared three-quarters full. The only unpalatable moment came with a scrap between a male nurse, an Admiral Nelson and a Fred Flintstone in the west stand which distracted from Root's departure.