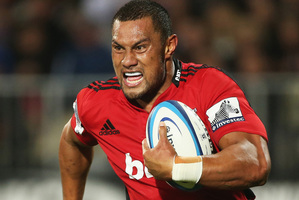 Everyone is used to New Zealand rugby being under siege from talent poachers. But the threat level has never been this high - from schoolboys to All Blacks, players here are being hunted from Ireland to Japan.
The World Cup is mostly to blame. The Celts, England, France, the Pacific Island sides - just about every nation likely to be there in 2015 - is actively recruiting to strengthen their player base. Unlike previous tournaments, though, most nations won't keep the door open for late converts. The build-up to 2015 has already begun and the leading nations want certainty around personnel and maximum time to develop their game plans.
The message has been clear - dual-qualified players will need to commit their eligibility by the end of this year if they want to play at the World Cup. That's why last week there was significant movement and why more is expected.
Samoa are likely to be the most aggressive and are believed to be after Robbie Fruean, Peter Saili and Motu Matu'u. They have chased Fruean since 2010; this might be the year they get him.
In the midst of a midfield crisis, Fruean still hasn't made the All Blacks' wider training squad. Saili has resisted as well but may realise that Samoa is his most likely ticket to the next World Cup - a thought that may also be dawning on the destructive Matu'u.
Tonga are thought to be interested in Chiefs halfback Augustine Pulu and Fijian-born Asaeli Tikoirotuma is wanted by his homeland.
Samoa have enjoyed some success in their early efforts to build a strong World Cup squad, with Alapati Leiua committing to them last week after he turned down the chance to be an All Black. His Hurricanes team-mate Jack Lam made the same commitment.
The under-rated Toby Smith was another to make an major announcement last week - he's shifting to the Rebels next year. Smith, a powerful loosehead, was born in Australia and has been lured by the idea he could yet play at the World Cup - for the Wallabies.
Having also lost Richard Kahui, Craig Clarke and Lelia Masaga to offshore deals next year, Chiefs coach Dave Rennie has been most vocal in detailing the threat posed. Not all the targeted men will defect but many undoubtedly will and, when they do, they will also inevitably quit New Zealand in search of bigger pay deals elsewhere.
Predators are an unwelcome constant in New Zealand rugby but what marks this year as different is the range and intensity of the offers.
The Celts and Pacific Islanders in particular are urging players around the globe thinking of committing to them to do it now. In the past, it's been typical for dual-qualified players to keep their options open as long as they can.
Kahn Fotuali'i was a prime example - he chased his All Black dream until late 2010. It was only in November that year he said yes to Samoa and, as welcome as he was, it meant there was limited time for him to settle into team patterns and build a combination.
The Pacific Island nations have also learned the hard way that circumstances can change quickly and a player on their radar (but not the All Blacks') can suddenly shoot up the pecking order in an injury crisis and win a few caps only to be just as quickly discarded.
Rugby is littered with former All Blacks who would've had longer international careers elsewhere: Kevin Senio, Sam Tuitupou, Masaga, Casey Laulala, Sosene Anesi, Rudi Wulf, Anthony Tuitavake and Mose Tuilai'i to name but a few. Leiua's decision to say no to New Zealand is the first evidence that dual-qualified players are prepared to think beyond the short-term. It was also evidence of the power and influence of what is now a sophisticated player agent market in New Zealand.
The quality of career advice has greatly improved in the past decade and so too have the global networks. Agencies now have established contacts and strategic relationships with clubs and national teams, which means players and coaches are now armed with detailed intelligence and able to make informed choices.
That was apparent in another less heralded move last week which saw former New Zealand under-20 captain Jake Heenan signed by Connacht. The Irish province, now led by former Blues coach Pat Lam, knew the openside had not been offered a contract with Auckland and was ready for a fresh challenge.
"The agents [as much as the coaches] are aware of the players coming through the system," says Blues chief executive Andy Dalton. "Jake was with us for three years in our Academy and, when he asked us for a release, we didn't stand in his way. I don't think we are about to see an exodus of players [from the Blues] but we might see more players look offshore as a development option - go younger and come back - rather than as a retirement option."
Potential Pacific recruits
Robbie Fruean (Crusaders)
At 1.92m and 110kg, Robbie Fruean is potentially the most destructive ball running midfielder in world rugby. His sporadic work rate rules him out of contention for the All Blacks but Samoa feel they could accommodate him in their less structured, more explosive, instinctive style of rugby. He and Alapati Leipua would be an intriguing midfield combination.
Augustine Pulu (Chiefs)
Strong, big and bruising, Augustine Pulu has taken some of the rough edges off his game this year. The Chiefs halfback has surpassed Brendon Leonard in the pecking order and if he can further cut down his mistakes, has the all-round game to add value to any test side.
Aseali Tikoirotuma (Chiefs)
Tikoirotuma has become a consistent and impressive former for the Chiefs in the past two seasons. He tackles well, has a good understanding of the defensive requirements and, like many Fijian wings, has the speed, step and eye for space to be a threat with ball in hand.
Peter Saili (Blues)
The Blues No 8 has developed strongly in 2013, focusing on ball carrying and tackling. He's been direct, effective and accurate - his ability to get over the gainline from the base of the scrum would be an asset.
Motu Matu'u (Hurricanes)
New Zealand is desperately searching for a younger hooker and may have the answer in Matu'u. The 26-year-old is a ferocious tackler, probably the most explosive in the New Zealand game. His core skills look up to it and he would be perfect for Samoa who love to intimidate with their physicality.