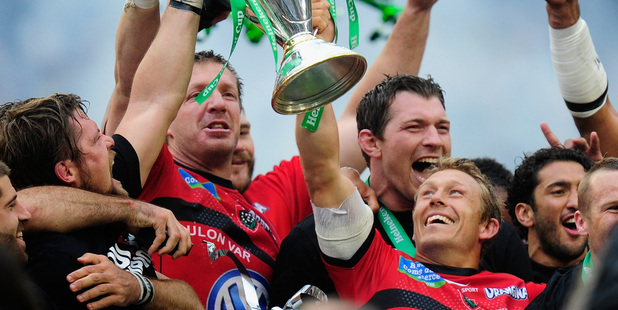 Rugby is supposed to be a game about star teams, not star players. The idea of buying success isn't supposed to work in rugby. It's not that type of game - collective bravery and cohesion are more important than individual brilliance. But maybe not any more.
Events in Europe, where the big-spending Toulon are chasing a rare double of Heineken Cup and Top 14 titles in the same season, is forcing a re-think.
They secured the first part last week when they defeated the equally ambitious French club Clermont in Dublin and beat defending champions Toulouse 24-9 in the Top 14 semifinal yesterday. The two are expected to clash again in the Top 14 final and, regardless of who wins, conventional wisdom will be booted out the window.
Money can deliver success and, having seen Toulon claw their way from the lower reaches of the French leagues to become champions of Europe (all on the largesse of comic book millionaire Mourad Boudjellal), other clubs could be encouraged to flood their side with superstars.
Will this become the chosen path of the biggest clubs? Have we reached the era where titles will be beyond those clubs who don't have competitive budgets?
Only Toulouse have ever won both the Heineken Cup and Top 14 in the same season - and their long-serving coach Guy Noves said last year that he felt the double was now impossible; the demands of the domestic competition were just too great for any side to be able to fight a successful campaign on two fronts.
Looks like he was wrong, probably because he didn't factor in that Toulon would be able to build a squad that includes Carl Hayman, Andrew Sheridan, Gethin Jenkins, Bakkies Botha, Juan Martin Fernandez Lobbe, Rocky Elsom, Chris Masoe, Joe van Niekerk, Danie Rossouw, Jonny Wilkinson, Matt Giteau, Mathieu Bastareaud, Rudi Wulf and Freddie Michalak.
Clermont aren't so far behind - they have Lee Byrne, Wesley Fofona, Regan King, Benson Stanley, Aurelian Rougerie, Sitiveni Sivivatu, Morgan Parra, Ti'i Paulo and Kevin Senio. Both clubs have been able to rotate their enormous resources to keep winning.
Toulon in particular have even run into issues that a player as good as Jenkins, who was named in the British and Irish Lions squad, can barely get a game - even though the front-row is constantly rotated.
At Clermont, Stanley, who joined last year as a three-test All Black and was presented as the club's star signing, hasn't featured much. He's competing for a starting place with King, Rougerie and Fofona, and he said in NZ Rugby World magazine: "I did not have any illusion on how hard it would be if you want to make the team, week in week out. Clermont have top French internationals. Regan King has been one of the best centres in Europe for a number of years now, he glides through the gaps. He probably left the game in New Zealand too early.
"The tougher the club, the tougher it is for the team because it brings a lot of competition. If we don't play well one week, we move and use another centre. If he can get the chance and plays well, he may continue too."
Clermont and Toulon are the closest thing in rugby to Real Madrid - the giant Spanish club who subscribe to the Galacticos policy of loading the dressing room with the best players available and then hoping they will meld into an effective team.
There will, inevitably, be more rugby teams heading down this route. The ambitious Montpellier club who have risen fast in the last five years, want to make the jump from being a near play-off team to a title-winning team.
That's why they took out the chequebook to buy Rene Ranger. The Blues centre will be their star signing for next season. But that might be hard to tell because he will be joined by former Blues and All Black utility back Anthony Tuitavake and two more star midfielders.
The upshot of this changing philosophy, of this increasing number of subscribers to the Galacticos concept, is that New Zealand will be under even greater threat from poachers.
Money doesn't appear to be drying up in France - it's not cheap to build star-studded squads, but the bigger teams keep finding the money. Budgets increase every year, but so too does revenue.
The New Zealand Rugby Union have long seen Toulon as a scourge on the game - a brash and unwelcome pest with the spending power to distort the market.
The national body will not be alone in feeling that way in the wake of Toulon's Heineken Cup success.