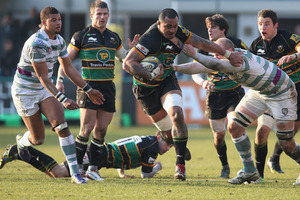 When Samu Manoa's mother last saw him, she decided the 1.98m, 122kg-plus Northampton forward was a little on the skinny side. "Are they feeding you over there in England?" she asked him. "Give me the coach's number. I'll call him."
Manoa is not obviously in need of building up - his brutal performances for the Midlanders in this season's English Premiership have earned him a reputation as the competition's most physically intimidating individual - but mums know best. Especially Tongan mums.
Born and raised in California, the one-cap United States international hails from an eye-wateringly large extended Pacific family - he says his mother is one of 33 brothers and sisters, although she's never met half of them, which makes his father's nine-sibling arrangement look half-hearted by comparison.
The huge lock or No8 played in last night's Premiership final against Leicester Tigers and is due to turn out for the Barbarians against the Lions when they play their first match in Hong Kong on Saturday on the way to Australia.
Manoa was pretty much made for contact sport. His grandfather was captain of Tonga in the 1960s, his father played for them and one brother is on an American football scholarship at Stanford University.
"I thought about gridiron myself for a while," Manoa revealed. "Before rugby, I played defensive end and linebacker, quarterback, and wide receiver. But I like rugby, which is the same game without pads.
"I like running the ball and I like hitting people. I don't mean to hurt them, but hey, if you're in front of me, I'll give you what I've got. And I'm not scared of any player. If I get bumped, I get bumped.
Northampton signed him from the Golden Gate club in San Francisco, where he was playing for free while earning a living laying concrete and electrical cables.
"They invited me over and were really good to me, so when they asked me to sign I said, 'Where's the piece of paper?'
He feels blessed to be here. During his time on the West Coast, gang culture and turf wars were not a complete mystery to him.
"That was the neighbourhood and I was young and dumb," he admits. "I needed to get out."
One of Manoa's pet projects is establishing a rugby academy. Together with Golden Gate coach Bruce Thomas, he believes organised sport offers kids from tough backgrounds a way off the street.
Manoa is 28 and has some catching up to do on the international front. He missed the 2011 World Cup in New Zealand - he had just agreed terms with Northampton - and the US coach at the time, Eddie O'Sullivan, was not of a mind to put the player's professional future at risk by forcing the issue.
But things are moving fast. After the Premiership final, he will join the Barbarians squad and is all but certain to face the British and Irish Lions alongside such players as All Black wing Joe Rokocoko, and Italian No8 Sergio Parisse.
"That's a big deal, he said. "It's the kind of thing that adds to the exposure for American rugby."
It should work out very nicely for Manoa too just as long as the Baa-Baas remember to feed him. If they don't, they'll have a row on their hands.
- The Independent