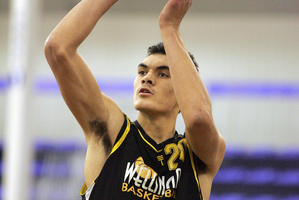 New Zealand teenager Steven Adams is tipped to be as high as a top 20 pick in the NBA's much-anticipated draft next month.
He is regarded as an extremely raw prospect but has a physical profile that has excited pundits and experts in the United States.
The NBA draft, which plays out on June 28, sees NBA teams select a total of 60 players from a list of college stars and international prospects.
Generally the lowest-placed sides from the previous season get the first picks, though teams can trade their draft choices to move higher up the list.
Adams has been touted as a prospect for several NBA teams, including the Chicago Bulls, Boston Celtics, Atlanta Hawks, Washington Wizards and Oklahoma City Thunder.
The 19-year-old, who has just completed his first season in college at the University of Pittsburgh, is a rare specimen. While there are no shortage of big men across the basketball world, the Rotorua-born Adams has some unusual traits.
Influential American website draftexpress.com described Adams as "an enormous individual ... [with] rare size, a strong frame and excellent athleticism".
He stands 2.13m, has a wingspan of 2.25m and a standing reach of 2.78m, statistics similar to former Orlando, Los Angeles and Miami giant Shaquille O'Neal (2.16m, 2.31m and 2.84m).
He is also strikingly similar to former Portland Trail Blazer Greg Oden (2.13m, 2.24m and 2.84m) who has had an injury-interrupted career but was the first pick overall in the 2007 draft. The website also claims Adams has some of the largest hands (widths and lengths) since the NBA began measurements in that area.
What may mark Adams out from the pack is his athleticism, rare in someone with such a large frame.
One American website suggested he "runs the floor like a deer" and was a good rebounder and shot blocker. He moves fluidly, not at all ungainly like other big men on the court, and has been compared to San Antonio Spurs centre Tiago Splitter.
Adams also impressed at the recent NBA Draft Combine, which saw potential recruits tested in front of NBA scouts and chief executives.
"They watched him run the floor, they looked at his hands, they looked at his size and his muscle and his athleticism and they saw a player," suggests Sports Illustrated NBA draft expert Chris Mannix. "He performed very well at the combine and several executives told me they like what they see out of him."
Mannix lauded Adams' "potential, size and skill set" and is adamant he will be a first round pick, likely to be placed in the top 20.
Teams would be selecting on potential; he would likely be sent to an NBA development league or spend a few seasons on the bench before stepping on to an NBA court.
Adams surprised many in April with his decision to enter the draft, with many experts agreeing that a few more years of development at NCAA level would have been the logical choice. But the dice are rolled.
The key for Adams is being a first-round top 30 pick. That would guarantee a salary of over US$1 million (last year's final first round pick earned US$850,00 ($1.05 million).
This year's draft is noticeably short on genuine star quality which may be another point in his favour.
If it eventuates, Adams would become the first New Zealander to be drafted in the first round and the third Kiwi to feature in the NBA.
Sean Marks was the 44th pick in the 1998 draft, while Kirk Penney was not selected from the 2003 draft but played briefly for the Heat, Clippers and Spurs.