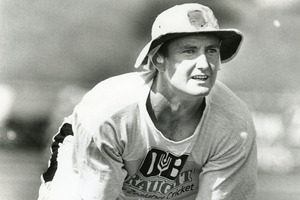 If you compiled a New Zealand XI of players-who-never-took-themselves-too-seriously, Tony Blain would surely be skipper.
Few ex-players are as unaffected by fame which can come with the international cricket territory. Blain is one - his irreverent humour is infectious.
However, he came across a serious issue a few years back. He re-acquainted himself with Sharon, the woman he got engaged to after the 1986 England tour.
The relationship foundered in an age of extortionate international phone bills and no internet. Sharon wasn't sure she wanted to give up a solid job in the police to pursue a mullet-haired Kiwi to the other side of the world.
She wishes she had. The pair rekindled their romance and married on the shores of Lake Taupo in 2010.
They returned to live in Gomersal, a village 16km south-west of Headingley cricket ground, which is hosting the second test between New Zealand and England.
"I was always a bloody legend with the ladies," Blain ventures, "but I fell head over heels in love. In 1986, it turned to custard, we went our separate ways. Now, 27 years later it's domestic bliss, at least once I trained her to do the washing, the ironing and the dishes," he cackles, as Sharon chides him.
Blain is attending the test today and tomorrow (with his gear packed "just in case").
He's hosting a few mates. His plan is set: present his loyalty card at the Ugly Mugs Café opposite the ground, scoff a bacon and brown sauce 'banjo', then sit in the stands supping his tipple of choice - alcoholic ginger beer. He recently discovered after "years of perseverance" he was allergic to beer.
The 51-year-old first played for Gomersal cricket club in 1983. His career soon took off and he returned on his debut New Zealand tour in 1986. Blain was the understudy wicketkeeper to Ian Smith (as he was for much of his career) and enjoyed a "social" tour.
However, during the New Zealand Herald's December "Shame game" series, Blain saw the team teetering on the edge of dysfunction. Having clocked up 11 tests and 38 one-day internationals over eight years, he was well-placed to observe such things - he did so with the social interactions of the 1980s team in their pomp.
"It was a very odd do," he recalled of a tour which is trumpeted as a success with New Zealand's inaugural 1-0 series win. He said one of the young players became so disillusioned by the stand-offish behaviour and occasional hostility of others, that he preferred to travel alone in the kit van.
"1986 was a swansong for a lot of New Zealand cricketers. The only young bucks were myself, Stirlo [Derek Stirling], Rudder [Ken Rutherford], Willie [Watson], Brian [Barrett] and Hogan [Martin Crowe].
"[Richard] Hadlee was in his benefit season with Nottinghamshire so only played the internationals, Jerry [captain Coney] buried himself away writing his book, Turns [coach Glenn Turner] generally only joined the team on game days, and Chats [Ewen Chatfield] became manager after he broke his thumb and [original manager] Bob Vance got ill.
"There was no team bonding. We were simply united by the silver fern."
A highlight of Blain's tour was his entrance as 12th man at Lord's when Willie Watson split his trousers on debut.
"All of sudden Willie appeared on the visitors' balcony with me. He'd just walked off and said 'they're waiting for you'. I looked down and saw the team gesticulating. I took off, but doing three flights of stairs in spikes is a hard act. Old diggers were yelling things like 'not that door'. As I raced through the Long Room I saw the sightscreen and realised I must be close, but I couldn't get out.
"I looked up, and I'm not kidding, there was a hand-written sign saying 'this door is closed on Tuesdays'. I was tricked because when a batsman or team walked out the sightscreens usually parted. My entrance didn't qualify.
"A mini-Mexican wave had started in the members' pavilion following my progress. I thought 'bugger this' and leapt the picket fence only to catch the slope. I had to start sprinting so I didn't fall over."
A qualified teacher, Blain used to moonlight over summer as commentator at Eden Park. His main media commitment now is a weekly 'Letter from Dewsbury' which is read on the Beige Brigade fansite podcast, a show he reveres for its "natural shabbiness". He teaches at a school in Bradford and estimates 94 per cent of his students are Pakistani.
"Once they find out I've played a bit of international cricket, teaching is a breeze. But try telling a 14-year-old I played in 1986. It may as well be 1833."
Weekends are the highlight. He opens the batting for the Gomersal second XI, still scores centuries and often tops the season scoring charts.
"We play at places like Pudsey St Lawrence which has a real Kiwi connection with photos of Martin Crowe, Mark Greatbatch, Simon Doull and Chris Pringle adorning the walls. The other day we were at a club called Farsley and [former England captain] Ray Illingworth was walking the boundary.
"There are purpose-built grounds, pavilions and scones for afternoon tea. It beats getting changed under a tree in New Zealand."