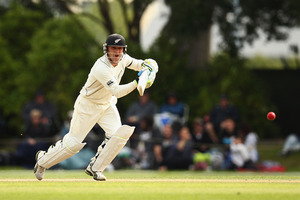 To paraphrase Mark Twain, reports of apathy towards the New Zealand cricketers are always exaggerated.
The test team prepared to face an examination of their batting technique and fortitude overnight, depending on the toss outcome. The loss of six wickets for less than 40 runs three times in the last six tests means the demand for action from former players and readers has been passionate.
New Zealand wicketkeeper/batsman Tony Blain (1986-94) lives and plays cricket in Gomersal, about 16km from Headingley. He is familiar with what the New Zealanders can expect from conditions in their seventh test at the venue dating back to 1949. Their solitary win came in 1983, the year Blain first ventured across as a 21-year-old to play in the same town.
He has a simple but radical solution to counter the English swing bowling: "Bat out of the crease by a foot or so. The English would then have to bowl shorter and the ball wouldn't get as much swing, particularly late. You need to be brave to do it because these guys aren't slow and you risk getting pinned.
"Okay, you'd wear a couple but Brendon McCullum's done that before and it can completely throw a bowler off his rhythm, especially if you advance."
Blain says this series forms part of an experiment for England before the Ashes series against Australia.
"To beat Australia, they need to get the ball to swing. As a result we're already seeing drier pitches. The idea is England pitch the ball up to maximise their conventional swing [and reverse swing later via the abrasive surface]. It also gives spinner Graeme Swann a chance to do his thing."
New Zealand bowling coach Shane Bond has earned kudos from the performance of his pace battery in recent matches. This test is the perfect chance for batting coach Bob Carter to do the same after the Lord's 68 and Cape Town 45 collapses. Responsibility lies first with each batsman but they need to go in mentally and physically prepared.
Suggestions to assist have flooded in via email. An experienced former batsman said the key to getting conditioned is footwork and the New Zealand top order lacked that quality during the second innings at Lord's (apart from Kane Williamson who "just lent back a touch" before lofting the ball to mid-off).
The correspondence went on to say players were: "All stuck on the crease, fending with bat and hands. Disaster."
One recommendation to fix the footwork problem proposed starting with no bat so players simply worked the feet and body into positions to hit the ball under their eyes.
Meanwhile, reader Garry Owen wanted the team replicating England's Joe Root.
"A straight backlift like Root's is important so they're not playing across the flight of a ball heading towards the stumps from centre or off.
"And have you noticed how, when confronted with a bowler coming around the wicket, a batsman will often alter his guard but still addresses the umpire rather than alter his stance to address the bowler's arm. As a left-hand batsman, I learned this basic rule many years ago."
Meanwhile, if the New Zealanders were gazing warily at the England bowlers, Headingley's connections were gloomily watching the weather - a first-day washout in the second test the last thing Yorkshire wanted as they attempt to "reinvent" Headingley.
Their new chief executive, Mark Arthur, has warned against English cricket's "unsustainable" model of maintaining 11 international grounds. The England and Wales Cricket Board is covered by rain insurance and Arthur said there would be "minimal" losses for Yorkshire, primarily from sales in the club shop, as the Leeds Rugby club hold the pouring rights to the bars. With an encouraging weather forecast for the weekend, a crowd of 12,000 was expected for the second day and up to 8000 for the third.
Arthur took over at Yorkshire with a brief to ensure Headingley remains a big player in the battle to stage England matches. There are now 10 grounds, with Taunton also looking to join the list of venues for international cricket in this country.
Competition is fierce but the difficulty of staging international cricket and making it pay was underlined recently when Durham gave up two one-day internationals, fearing they would make a loss.
Lord's and Trent Bridge are market leaders in staging test cricket but Arthur is concerned a north-south divide could develop if clubs such as Yorkshire start to miss out on matches.
"When I last worked in cricket there was a rota basis so you could set your business plans according to when you knew you would miss out on a particular test match," said Arthur, a former chief executive of Nottinghamshire and Nottingham Forest. "On an eight-year programme you would know what you were going to get. Now there is a huge bidding process with 10, soon to be 11, grounds and it is unsustainable.
"There is a finite amount of international cricket in this country. To spread it among 11 international grounds and expect all those grounds to be at the same level as the top international grounds around the world doesn't work, does it? What are we all after? It is a sustainable game of cricket at club, county and international level. We all have to work together for that balance.
"One of the best things that happened to football was the reconstruction of Wembley because for a period of time England took their games around the country. They connected with more people. That is one of the unique factors of international cricket in England. It does get taken around the country and I think it is important to understand that not everybody has the spending capacity of those people who live in the south-east of the country. That has to be factored in when they are allocating matches. There is a finite amount of money that you can charge for cricket out in the provinces."
The cheapest adult ticket at Headingley yesterday was £40 and Arthur has agreed he will review pricing before next year's test. The problem is enticing the Yorkshire public back to the ground. Yorkshire has more than 40,000 club cricketers but selling international match tickets is a challenge.
Additional reporting from the Daily Telegraph