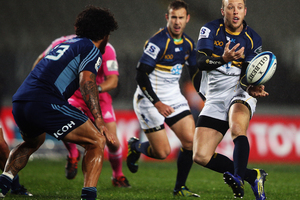 BLUES 13
BRUMBIES 20
A shambles of a game - a disaster of a result. The Blues suffered the double whammy tonight of playing like dogs and losing.
They have little grounds for complaint and as hard as it will be, they will have to suck this one up. They were a no-show in truth. There were patches of quality and cohesion in the second half, but they know they never got remotely close to giving a half decent account of themselves.
They will know that the Brumbies' position on the table is deceptive. They are not a side to fear: not a side that the Blues should find much solace in losing to.
The disappointment will be intense. The Blues came into this game with serious hopes of collecting four points and advancing further into the playoff mix. But by full-time, all they had to show for their undeniable effort was one lousy losing bonus point and a stunning tackle by Rene Ranger on Nic White - maybe the best tackle of the season such was the timing and ferocity.
A blindingly good performance from Luke Braid who showed up everywhere and did plenty and a few flashes of Piri Weepu at his best close to the ruck.
It wasn't a whole heap of beans and this game, may in time, come to feel like the night the Blues hit the ice-berg.
Not s much for the result - although that will undoubtedly hurt them in the wash-up _ but the performance. They regressed - badly. They didn't look angry or intense. They didn't kick on from what was a deceptively committed and good performance last week against the Crusaders.
Their lineout wobbled. Their scrum had good moments, but more bad and the general composure, authority and hunger were not all they needed to be.
They had been dire in the first half - thrown by the conditions entirely. They tried to run when they should have kicked. They looked to pass when they just needed to hold on and as they compounded their mistakes, their frustration grew - further compounding their mistakes.
It was probably the worst half of rugby the Blues have produced this year, Ball retention was awful _ wet weather rugby is simply impossible if the carriers flap and guddle instead of hug and grip. It was never going to be an evening for tips of the fingers, pass and catch in lightning movements, yet the Blues were slow to come to terms with that.
The instincts of too many were to run and look for space, when really, hoofing the blessed thing down the park appeared to be the best option nine times out of 10. If there was one positive to emerge, it was the way the back three dealt with the high ball. They were confident, accurate and bold in collecting it, just not so adept at using it after they had it.
The ratio of collision to ball spillage was frustratingly high: there wasn't enough respect paid to protecting a wet ball which was decidedly easy to dislodge in the monsoon. To compound matters, the Blues found it hard enough to win the possession that they then so easily gave up.
No ball, no control and no momentum - they stuttered around without conviction, direction or purpose. It was painful, particularly so for the players who must have thought such nights were behind them.
This was rugby 2012-style _ not at all what the Blues have been about in 2013. The hardest part to fathom was the tactical naivety: it's frankly not possible for anyone to grow up in New Zealand and not have considerable experience of playing in the rain. For an Auckland side to be confused to be flummoxed by the conditions - its almost unforgivable, and nor could it be blamed in the side being young an inexperienced.
It's basic rugby sense that on an ugly night the right thing to so is to play in the opposition half: to put them under pressure and play off their mistakes.
It took the Blues 40 minutes to absorb the message - which is a worry, because they have reached the stage of the season where it's dangerous in the extreme to waste a half.
That's the lesson the Blues need to take from this - turn up and play next week.
Blues13 (R. Ranger tries; C. Noakes con, 2 pens) Brumbies 20 (N. White tries; C. Lealiifano 5 pens)