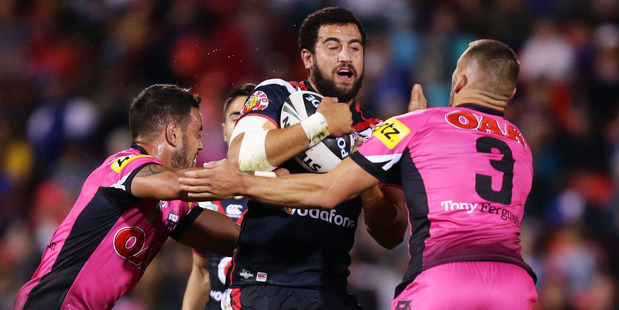 Even by their standards, this season has been one of the strangest in the chequered history of the Warriors.
It's hard not to be confounded by a team that pushed the high-flying Rabbitohs, Roosters and Storm to the limit but then suffered horrible losses against fellow strugglers such as Parramatta and especially Penrith.
The only consistent thread has been their inconsistency and last week's hiding in West Sydney set alarm bells ringing. All the gains seemed to be gone. There have been heavy losses before, though probably never against such modest opposition.
In league, matches can quickly turn ugly - if one team gets momentum, they can be hard to stop. Remember the Storm, featuring Cameron Smith, Cooper Cronk, Billy Slater, Greg Inglis et al, were once at the wrong end of a 40-0 scoreline - in a grand final.
Remember also that coming into the Penrith match, the Warriors had played well against the Bulldogs (okay, for 60 minutes), Titans, Storm (65 minutes) and Raiders (60 minutes).
The events of Saturday, May 18, will, however, go down in infamy.
"It was the most embarrassing moment in my career," says prop Ben Matulino. "We can either use it as a way to continue our season or use it as a springboard and as motivation. We need to get some respect back."
"We delivered something that I certainly didn't see coming," says coach Matt Elliott. "Some reality needs to be faced there. There have been individuals over the previous five weeks that have probably let us down. But [last Saturday] wasn't an individual thing. The whole team didn't show up."
Last week's media session was understandably subdued - apart from Elliott snapping at a radio reporter who questioned the lack of changes for today's game - but training has been intense, including gladiatorial one-on-one drills in front of the whole team.
"You had someone running straight at you a hundred miles an hour," says Matulino. "Everyone was watching and you had to get some good tackles in. If it wasn't a good tackle, you had to do it again; it was putting accountability on everyone. People were launching at each other. If we can bring that kind of intensity to games, then I think things will change for us."
For now, the short-term fix simply rests on effort and attitude. As Elliott alluded to in the after-math of the Penrith performance, expectations have to be re-set. There is also no longer any point in talking of the top eight; they need to take it week by week; rebuild, repair, refocus.
However, in the medium-term, various issues - some not exactly new - need to be addressed.

Culture
It's an intangible area but some clubs have a defined winning culture, a sense of professionalism that flows from the front office to the playing field. It existed in 2011 but has yet to be rebuilt. "What prevailed [at Penrith] is not new here but the fact that it is still here is my fault, my responsibility," said Elliott of the culture. "That's what I signed up for - that's what you do as a head coach."

Recruitment and retention
Some hard decisions need to be made, though maybe the events of last Saturday will have made them easier. Certain players just do not seem to be progressing, despite a decent stint in first grade. Recruitment is a tricky area as the wobbly performances this year (particularly last Saturday) make the club less attractive to potential players, especially those with options.

Back to basics
There have new gym equipment, oxygen chambers, core cooling units, new diets, a 'war room' and more different jumpers than a Chinese circus. That's all fine, but with the current Warriors, the devil is not in the detail. It's in the obvious stuff. In areas such as concentration, urgency, attitude and will to win the Auckland club still lags behind most of their NRL rivals.

Minimise the hype
Despite the ebbs and flows over the years, the Warriors have always performed well sans expectation. Say what you want within the walls but be extremely careful with public praise. Former coach Ivan Cleary was always reluctant to dish out plaudits, especially to young players, preferring to focus on what areas they needed to develop. Elliott's comparison of Carlos Tuimavave with a young Laurie Daley was unnecessary and unwelcome.

Don't blame inexperience
Despite perceptions, the Warriors are not as inexperienced as you might think. The 17 who took the field against Penrith had an average of 80 NRL games; seven of the forwards had more than 100 appearances, four have topped 150. Even the youngsters are building a base; Bill Tupou has 63 games, Elijah Taylor 53, Shaun Johnson 49 and Ben Henry 31. The backline is not inexperienced, though neither is it mature.

Don't forget the Australians
It can't be forgotten that almost every successful Warriors' campaign has featured a core of solid Australian players. This must be maintained and maybe increased in the next few years. While New Zealand produces great athletes, the super-competitive Australian age group and schoolboy system produces hardened individuals from a young age, such as Kieran Foran and Daly Cherry-Evans.

Buy character
Easier said than done but the club needs to measure potential recruits in terms of talent and character. There's a reason Wayne Bennett keeps re-signing Jeremy Smith; the Kiwis backrower is a born winner who doesn't take a backwards step, a la Paul Gallen, Glenn Stewart, James Graham, Ryan Hoffman ...
Today is the day for a rebound, if not in terms of result, then at least in performance. Last year's game against Newcastle, two days after Eric Watson and Owen Glenn made their "biggest sporting franchise in Australasia" comments, saw the Warriors blow an 18-0 lead to lose 24-19. It was the beginning of the end under Brian McClennan; let's hope today does not signal the end of a new beginning under Elliott.