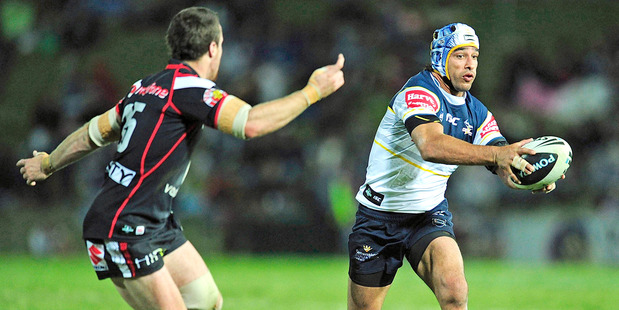 Warriors coaches have survived heavy thrashings in the past but such results have usually proved terminal in the end.
For Brian McClennan, Daniel Anderson and Mark Graham, big defeats were the end of the road. Ivan Cleary survived - and thrived - while Tony Kemp was eventually shown the exit.
There were predictable calls for Matt Elliott's head after last Saturday's 62-6 thrashing in Penrith, the Warriors' worst defeat.
Elliott will remain at his post - for the foreseeable future anyway - but it will take a lot of remedial work, good performances and creditable results to expunge the memories of 80 disastrous minutes at the foot of the Blue Mountains.
Apart from the damage to the brand, the franchise's credibility and balance sheet, large defeats (particularly following several other losses) cut at the spirit and heart of the playing group.
Here are six of the Warriors' worst defeats and their outcomes.

1. Dragons 54 Warriors 0 Round 14, 2000
St George nearly won the grand final the year before and were in a menacing mood. Nathan Blacklock, Trent Barrett and Mark Gasnier tore apart the Warriors. Mark Graham's side had some talent, with men such as Logan Swann, Terry Hermansson and Jerry Seuseu in the pack, as well as Stacey Jones and Nigel Vagana in the backline.

2. Storm 56 Warriors 10 Round 20, 2000
The reigning NRL premiers overwhelmed Graham's side and probably confirmed his departure. It wasn't a flash Melbourne Storm with names such as Aaron Moule and Tasesa Lavea alongside stars Brett Kimmorley and Robbie Kearns. The Warriors had some names but also plenty who had brief careers at Mt Smart (Scott Coxon, Matt Spence, David Mulhall and Jason Bell).
Outcome: Graham left Mt Smart by the end of the 2000 season, six weeks after the Melbourne loss.

3. Roosters 58 Warriors 6 Round 12, 2004
The Roosters, who reached a third consecutive grand final that season, savaged the Auckland side in a brutal display in Sydney. The Warriors still had the core of their 2002 grand final team, including Jones, Lance Hohaia, Brent Webb and Richard Villasanti. But they were on the slide, with this defeat their eighth in 11 games, similar to 2013.
Outcome: Eric Watson immediately flew back from London for a crisis meeting with chief executive Mick Watson and coach Daniel Anderson. Anderson resigned even before the owner touched down in Auckland.

4. Tigers 50 Warriors 4 Round 14, 2004
Tony Kemp's reign started promisingly, with a 20-14 win over Canberra. But doubts resurfaced as the team slumped to what remains their worst loss on New Zealand soil. Against a solid but hardly spectacular Tigers outfit - the halves were the little-remembered John Wilson and Keiran Keir - the Warriors, who had 11 test players, conceded nine tries in front of a big Christchurch crowd.
Outcome: Kemp was given another year to prove himself. In 2005 the Auckland team finished 11th of 15 and Kemp was axed.

5. Manly 52 Warriors 6 Round 3, 2008
After fourth place in 2007, this hiding was unexpected. Steve Price's team completed just 13 of 30 sets in a catastrophic performance against the eventual premiers, torn apart by Matt Orford and Jamie Lyon. Worse followed - between rounds six and 15 they won just two of nine matches. But the Warriors, determined to send retiring Ruben Wiki out on a high, won eight of their last 10 matches to scrape into eighth place.
Outcome: Despite this and other heavy defeats (49-12 vs Cowboys 2007, 40-4 vs Eels 2009), Ivan Cleary continually proved his ability and was retained in his role until 2011.

6. Cowboys 52 Warriors 12 Round 23, 2012
Not the first big loss in Townsville but the most costly. If the defeats to Manly and Newcastle (after holding 18-0 leads) had put Brian McClennan under the spotlight, this match sealed his fate. Matt Bowen and Johnathan Thurston were stand-outs as a listless Warriors team was crushed, leaking seven tries in the first 52 minutes.
Outcome: McClennan was put on notice - anything less than a win eight days later against Penrith would be terminal. The Panthers scored in the 78th minute to steal an 18-16 victory and 'Bluey' resigned two days later.