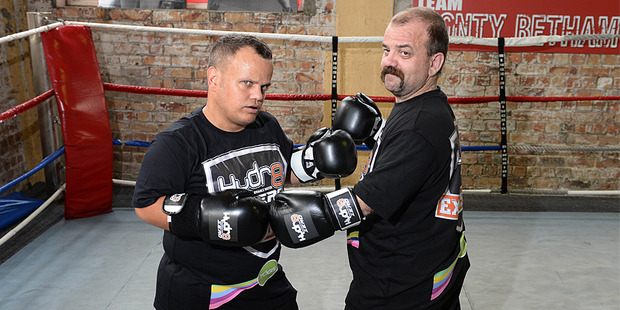 Dwarfs will battle in the ring before a major heavyweight bout in Auckland next month.
The bout is expected to attract indignance but fight promoters are adamant the two little men, both about 1.3m, will put up a serious fight on June 13.
Matthew Wood is a former bodybuilder whose quest for love was turned into a TV show. League legend Monty Betham is his trainer. His rival Colin Lane is a night-shift worker at SkyCity, who recently cut back smoking and has virtually no sporting experience. Lane's trainer is Mark Bedford, who once trained Mark "Horse" Bourneville.
Betham conceded he took on Wood to train before knowing he was a dwarf. ''I've never trained a dwarf. I've trained a Beast and models though, so why discriminate?"
Betham is in Dubai this weekend, training Brian Lima, the former Samoan rugby player known as The Chiropractor for his hard tackling style.
Lima is fighting former Irish rugby hooker Shane Byrne in a North v South boxing event.
Wood recently passed his early childhood teaching qualification and had been a champion body builder. "He wants to lose a bit of weight. His tummy is the muscle that seems to be bigger than anything else right now."
Betham wasn't worried people might call the midget fight a freak show. ''My role is to train fighters. I take it seriously." Betham said.
Meanwhile, Bedford said Lane slashed his cigarette intake and was making progress with weights, a punching bag and sparring. "He's told me he's given up the beer while he's in training."
Lane started training as early as 6.30am, every second day. He worked night shifts cleaning at SkyCity. "We're starting from scratch with him. Last week especially, he surprised himself with how well he'd done."
Bedford said the two dwarfs knew each other. "Talking to Colin about it the other day, they know each other but I don't particularly think they're friends..."
Bedford said Lane was about 40 and Wood was in his mid-thirties. Both men were robust, said to be in good shape, and expected to weigh in at about 70 to 75kg.
Duco Events, which last year staged the Jamie Ridge-Rosanna Arkle fight, is staging the event. The big bout at Trusts Arena, pitting Joseph Parker against Francois "White Buffalo" Botha, had already raised the ire of boxing purists.
Duco director Dean Lonergan expected some fresh indignance about the dwarf battle but said sceptics would be silenced when it came to fight night.
"If there's a lot of public interest and the guys want to do it, we're keen to put it on," Lonergan added. "I expect them to get in there and take it very very seriously - and there might even be a bit of bad blood between the two of them."
The June 13 event will be televised from the arena where punters pay up to $10,000 for 10-seater ringside tables.
A national society representing Little People declined to wade into any debate about the bout. "They're old enough to speak for themselves. They're old enough to know what they're doing." Little People of NZ spokeswoman Loren Corbett said.
Corbett said New Zealand was generally becoming a more inclusive society and attitudes towards little people had improved. - Herald on Sunday