Champion driver expecting a tough race but unfazed by mid-field starting position.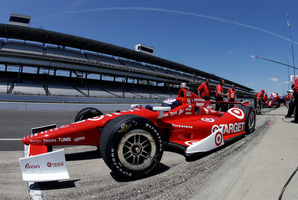 IndyCar driver Scott Dixon has not finished outside the top six at the Indianapolis 500 in the past seven years and would like to add another victory on Monday to his 2008 win. In that year, the New Zealander became the first racecar driver from these shores to win one the most coveted motor racing titles in the world.
Some of our very best open wheel racers over the years tried, and failed, to get their likeness etched on the Borg Warner trophy. They include New Zealand's only world Formula One champion Denny Hulme, Ferrari works F1 driver Chris Amon, Bruce McLaren, Wade Cunningham, Graham McRae and Rob Wilson.
With Dixon's record at the Indianapolis Motor Speedway, there is not a pundit worth half his salt who would rule the two-time IndyCar champion out of notching up another win in 'The Greatest Spectacle in Racing'.
He and his Target Chip Ganassi Racing teammate Dario Franchitti, a three-time Indy 500 winner, could only qualify 16th and 17th respectively, but Dixon's not overly bothered about that.
"Sure, I would have loved to have qualified where I did when I won in 2008 [on pole] but that wasn't going to happen," Dixon told the Weekend Herald in the run up to the race. "And anyway, Dario won last year from 16th and I finished second starting from 15th.
"Our qualifying position didn't come as too much of a surprise, and nor the qualifying position for anyone else using a Honda engine."
Of the top 16 qualifiers, only two are powered by a Honda powerplant - Dixon and Alex Tagliani in 11th. Chevy-engined cars were dominant during all the practice and qualifying sessions, but all is not lost according to Dixon. While the front row of Ed Carpenter, rookie Carlos Munoz and Marco Andretti might be able to pull away on a clear track when the lights go green, the more experienced drivers will settle back knowing it's a long old race.
"Dan Weldon also won an Indy 500 from 16th so it can be done. It's such a long race and can be one of attrition. We should have won in 2011 if we'd put more fuel in, and if you're in the right place at the right time it can definitely happen.
"We'll keep our heads up and keep pushing but at the moment it feels a bit like going into a boxing match with one hand tied behind our back."
That may be the case, but if Dixon can stay off the ropes and box clever, he may be there, or there about, during the closing stages of the race.
He was at pains to mention horsepower is king and makes things easier, and as the Honda engine is not pumping out as much grunt as the Chevy, a good car setup might just come into play.
"We knew last year we were down a bit on power but this year we're still much the same, whereas the others [Chevy engines] have made a few gains. We've got a good car with a good race setup so should go all right.
"Looking back over the years we've always finished strong and hopefully we will again this year. Sometimes you think you should have won it but that's not always the case. At least with Ganassi we have good strategy and good pit stops, which will give us a bit of an advantage," he said.
Starting midfield comes with its own problems and Dixon is well aware a few drivers may suffer from the berserker rage where the red mist descends and all sensibility goes out the window.
"I'll have to look at last year's tape and see what happened at the start. You'll always get a couple of people who will take big risks at the start to move up through the field early on.
"You have to be careful though, there's not much grip back there nor much aero with all the turbulence going on. Hopefully it won't be the end the race starting back there. We managed to stay out of trouble last year and I hope we have a decent run again.
"One thing though, it's going be a tough race," said Dixon.