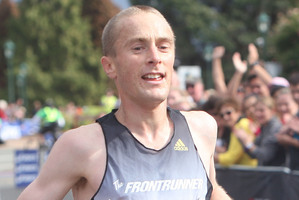 Sam Wreford is the form runner in the New Zealand marathon scene.
The Timaru 30-year-old, who won last year's Christchurch Airport Marathon in 2:17.30 and followed up with a 2:16.35 in Invercargill last November, more recently won the Rotorua Marathon for an impressive three titles from three starts.
Wreford returns to the Christchurch Marathon as the favourite, but will face tough competition from veterans Dale Warrander and Phil Costley, who are multiple winners in the Garden City.
Warrander has won the half marathon three times, in 2004, 2006 and 2011, and Costley has won the half marathon once - in 2001 in a then-record 1:02.41 - and the full marathon twice, in 1999 and 2004.
Their best marathon times are also significantly faster than Wreford's - Costley at 2:13.36 and Warrander at 2:12.58 - and between them they have won almost 50 national titles.
Costly, 43, has matured into New Zealand's best veteran, setting the veterans half marathon record in 2010. This year, he will have his eyes on Jack Foster's veteran record, which dates back to the first Christchurch Marathon in 1981.
There is no doubt that Costley is still good enough to win overall. He won Rotorua last year, and was third in the Christchurch half marathon in 2010 and second in the full marathon in 2011.
Warrander, whose personal best marathon came in 2004 in Japan, won't be lacking in motivation.
The 39-year-old has won every major marathon in New Zealand except Christchurch. A win there would crown his career and his second place last year was the only time Wreford has beaten him.
In 2011, Warrander won Rotorua and the Christchurch half marathons. In 2010 he beat Wreford to win the Auckland Marathon.
So while Wreford has recent form on his side, Warrander and Costley have run better times over all distances.
In the women's full marathon a strong field once again lines up for the signature race on Queen's Birthday Weekend.
Lisa Hunter-Galvin is looking to claim her third consecutive win at the Christchurch Marathon.
In 2011, the 44-year-old chose Christchurch as her first race after a drug suspension and silenced her critics with a win.
She backed that up last year with a win ahead of Wellington's Gabrielle O'Rourke, who she also beat at Rotorua last year.
Angela Leck from Wellington, who finished third last year, will challenge Hunter-Galvin and Dunedin's Victoria Beck will also be a contender.