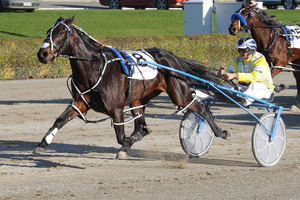 It was good news for the glamour girls but not for many of the big boys when the Harness Jewels draws were made yesterday.
And that leaves punters with some very hot favourites as well as some tricky puzzles for the two-day, 12-race meeting at Ashburton next weekend.
The leading ladies of New Zealand harness racing all fared well, with Adore Me, Bettor Cover Lover, Venus Serena and Escapee all drawing to lead and dominate their races if on their best behaviour.
But some of the Jewels pre-draw male favourites will be market drifters after the likes of Springbank Sam (nine to start from nine), Blitzthemcalder (one on the second line) and Isaiah (eight) all drew tricky barriers, while wonder pacer Christen Me will have to start from the outside of the second line.
Even the pre-draw favourites who did secure good marbles, Ohoka Punter (3) and Terror To Love (3) in their respective divisions have plenty of key rivals with gate speed drawn around them, probably enough to deter punters from going crazy on them.
But the girls are going to be the darlings of the multi-punters at the all- mile meeting where draws are usually so important.
Venus Serena could start odds-on in the juvenile fillies pace after she drew five but will start from four with the emergency out, with main rivals Te Amo Bromac (7), Angelina Jolie (9) and Snooki (10) all drawn awkwardly.
Three-year-old filly freak Adore Me's only concern would appear to be an early battle with Delightful Christen but coming into barrier two she looks certain to end her season with another victory.
Escapee will trial at Ashburton today and has a huge tactical advantage from barrier one in the four-year-old trot, securing barrier one while Stent has five and Master Lavros, who lacks gate speed, barrier two in one of the races of the day.
Bettor Cover Lover's five-year-old mares' race will be held tomorrow and while she has drawn widish at six, her only realistic dangers, Minnie Moose, Averil's Quest and Tatijana Bromac, have all drawn wider.
The boys' races look far more even after the draws, although Christen Me could have drawn to start five lengths behind his rivals and would still be favourite, so barrier 13 is only likely to see his odds lengthen from $1.10 to maybe $1.25.
The two-year-old male pacers have yet to crown a king and their final looks the most open race of Jewels weekend, with Aussie visitor Allblack Stride (4) and Racer (1) the bigger winners in the draw, albeit with some question marks over the latter's early speed.
But they are both better off than Maxim (5), Regulus (6), Isaiah (8) and Sky Major (11).
The three-year-old male pace often produces one of the star turns on Jewels day and this year won't be any different, with four group one winners drawn on the front line in Border Control (1), Ohoka Punter (3), Bit Of A Legend (5) and Franco Nelson (8, starting from 7).
The TAB markets for the Jewels re-open at 4pm today.