Trainer admits he had no idea what he had on his hands until a few weeks ago.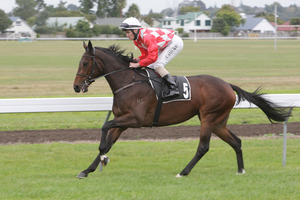 There's an old line in racing that good horses can come from anywhere.
It's true.
Rough Habit and Bonecrusher were bought for a handful of dollars from the loose change draw and between them won $10 million.
As a sidebar to that, some trainers simply don't know what they've got.
Not because they don't know their trade, it's because horses can fool humans.
Take Peria Princess, one of the favourites for this afternoon's $50,000 Graeme Thompson Jewellers Great Northern Foal Stakes at Ellerslie.
Part-owner and trainer Toby Autridge admits he had no idea what he had on his hands until a few weeks ago.
It needs to be pointed out here that Autridge, although not a high-profile trainer at the moment, is no novice in the thoroughbred game.
He was a gun apprentice, was beaten a lip on Dandaleith in the 1978 Melbourne Cup when barely out of school and later became one of our best jumps jockeys.
A hole was put in his career when he was nearly killed in his last race ride at Ruakaka in 1999.
Autridge broke his back in three places, fractured almost every rib and punctured both lungs.
In one of the early days of his rehabilitation Autridge arrived at the Matamata track wearing a metal moon head brace, prompting hard case fellow trainer Chris McNab to inquire: "Can you get Sky on that thing?"
Like his father Bob and brother Stephen, Toby Autridge is a master horseman.
There is a tale behind every racehorse and the one accompanying Peria Princess is more intriguing than most.
"We trained her mother Ponderosa Princess and on debut she beat a good horse of Colin Jillings who had been impressive in winning his first start.
"She could have been good, but we couldn't get her to eat.
"As a result she was light and would always come back in after races with an excuse.
"We decided to retire her and put her in foal. When she came back to us from the stud in foal she started eating and putting on weight like you couldn't believe.
"I swear she'd have eaten meat if you'd asked her.'
Autridge put Ponderosa Princess back in work, took her to Wairoa to get the money on both days of the meeting then re-retired her.
His father-in-law Neville Gracie raced a lot of horses with Bob Autridge and had a real interest in matching up breeds.
"Neville has passed on now and this is the last filly he had a hand in breeding, so I'd love to win a race like the Foal Stakes with her," said Autridge yesterday.
If you'd said that a month ago the Matamata trainer, who prepares the filly in partnership with Cyril Goodwin, would have laughed at you.
"I've never seen anything like her on the track - she won't do anything. If you sent her out to work with a kid's pony she might just beat it in a gallop.
"I'd ride her and she'd basically end up doing nothing. I'd run out of puff and she'd run out of interest."
The training partners had no idea what they had when they sent her out on debut at Matamata on May 6.
They were delighted when she finished a strong second to Goodn'targ.
"At her last start at Te Rapa she was so far off the bunch I thought Jonesy [Reese Jones] would pull her up.
"Early in the home straight she disappeared off the side of the television screen and I though Jonesy must have eased her down then suddenly she came bursting home to finish fourth."
That was a big effort behind Sacred Park last week and pointed to possibly an even better one against her own sex and stepping up to 1400m.
Autridge has a second reason for wanting victory today: "I got married to Debbie on the quiet a couple of weeks ago. This would be a great wedding present."
The horse that Peria Princess has to beat is unquestionably the Roger James-trained Hera.