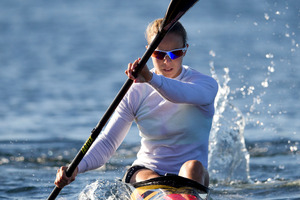 In the late 1980s, Ian Ferguson and Paul MacDonald were in high demand for happy snaps from other, admiring paddlers as they made their way around the world circuit.
Their Olympic achievements stood them high in the estimation of their rivals.
Similarly, New Zealand's current top kayaker Lisa Carrington is attracting attention with her achievements on the World Cup circuit in Europe, albeit in a slightly different way.
Having won both K1 200m events at the Hungarian and Czech Republic legs of the cup series over the past fortnight - and completed an impressive 200-500m double in the Czech Republic last weekend - the 200m Olympic and world champion is under scrutiny from other countries' athletes.
"Definitely, she's the one to beat now," her coach Gordon Walker said. "Certainly a lot of people will be looking at her, analysing her technique, her strategy, what her strengths and weaknesses are. She handles it really well."
Walker was "absolutely rapt" by the 23-year-old Bay of Plenty paddler's progress in the 500m in the space of a week, from winning the B final in Hungary to topping the podium in Racice last weekend.
"What's impressive about her is her ability to learn.
"Mental toughness is often a phrase that's biffed around but not really understood. She's tough in the right areas, and often that's about being disciplined with your thoughts, not allowing yourself to be negative."
Walker wasn't surprised she won the 500m, which she's contesting seriously for the first time.
"That's the kind of stuff I've seen her do in training, but it's another thing to do it in this environment.
"No one ever won a race with their training diary. In the 500m she destroyed the field. That wasn't luck."
However, despite compelling early evidence that having a serious crack at a 200-500m double at the Rio Olympics in 2016 is a realistic prospect, Walker is cautious.
"It's such a long way off. Absolutely before the project started she had that belief and this [the Racice double] probably only helped confirm that."
As for Carrington, she has had a thought confirmed in her mind. This trip was a feeling out of the idea of a double dip in Rio. She needed to test the waters.
"My goal is to go to Rio in both but I don't want to count my chickens before they hatch. It's good to come here and go 'okay, I can do this'."
The third and final cup regatta before August's world championships in Duisburg, Germany, is at Poznan, Poland, next weekend.