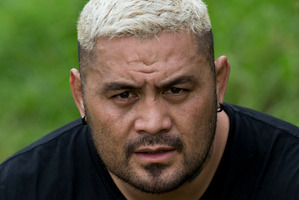 Mixed martial arts already has a cult following in New Zealand and it could blast to the front of people's minds this weekend.
Kiwis Mark Hunt and James Te Huna are both on the UFC 160 card at the MGM Grand Garden Arena in Las Vegas and tomorrow afternoon's (NZT) show shapes as a blockbuster.
Heavyweight Hunt is in the co-main event against Brazilian Junior dos Santos, with the winner potentially earning a world title fight. Te Huna meets dangerous light heavyweight prospect Glover Teixeira, who hasn't lost a fight since 2005 and is 3-0 in the UFC.
The New Zealanders are fill-ins with Hunt replacing Alistair Overeem, while Te Huna, 31, is stepping in for American Ryan Bader.
Both head in to the weekend as underdogs.
Hunt, the ninth-ranked heavyweight in the UFC, is on a four-fight winning streak.
"It's an opportunity," Hunt says of his bout against the 15-2 dos Santos. "Junior was the world champion and as a fighter to get the chance to beat the former world champion, to get closer to where I want to be is great, what else could I ask for? I don't want to wait 10 years, I'm an old man right now. So it's just moving along as a fighter. I've been fighting for a long time and the quicker I get my chance to fight for the title the better, so it's a good opportunity."
Hunt, 39, who is 9-7 for his career and 4-1 in the UFC, doesn't have youth on his side but he and dos Santos are regarded as two of the most powerful strikers in the division.
Dos Santos edges Hunt on the ground game - although Hunt does have a purple belt in Brazilian jiu-jitsu - but the 29-year-old will have his troubles if he wants to take the fight to the canvas given Hunt's stocky dimensions of 1.78m and 120kg.
Te Huna, who has won 10 of his past 11 fights and is 5-1 in the UFC, has connected with more than 50 per cent of his significant strikes during his past three bouts but hasn't had a submission victory since 2004.
His meeting with Teixeira is likely to be a clash of styles given the Brazilian's strong jiu-jitsu background and takedown ability.
If the fight stays up, Te Huna is more than a puncher's chance.
"If I pull off this win it's going to be a real big deal for me," Te Huna said.
"It's going to be really great for my profile. These last few fights I didn't do too well. But I managed to get the win on both of them, so I've got a lot of making up to do and this camp has been by far the best camp I've ever had. I've got some great guys behind me. I've had no injuries at all and my head space is really good at the moment."
APNZ
- APNZ