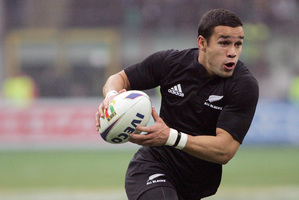 After being out injured for six months, Tamati Ellison admits the fickle nature of rugby was one of the main reasons he opted to head back to Japan.
Ellison, 30, will join the Ricoh company side in Japan at the end of the Super 15, despite having played for the All Blacks last year and being seen as a test certainty this season.
The midfield back said he enjoyed the Dunedin lifestyle and it was a very tough decision to head to Japan.
"But with a six-month injury I've had, you are not sure if your shoulder is going to stay together. When you get an injury like that it reminds yourself of how fickle the game is. Every now and then you have to take an opportunity that comes along.
"And it is not just about playing in the black jersey. There is the blue jersey [Otago], too. I have really enjoyed my time in Dunedin and I think that was one of the reasons I played so well last season as I was really enjoying it."
The new deal at Ricoh will initially be for one season, with an option for another year. Ellison could, therefore, possibly come back and play for the Highlanders again.
Money was obviously a factor in the decision to move on, he said. His brother, prop Jacob, was also playing in Japan, for the Sanix club.
Ellison, who has come back from a lengthy shoulder injury, said he was a professional rugby player, whose last job before rugby was a milk run.
"When you are 30, like I am, and you have a couple of kids, you have to take a reasonably balanced approach to a decision."
He had loved his time with the All Blacks, playing four tests for the national side, although he wished he had played more against the top-ranked nations.
"Had I started this year all guns blazing, who knows whether I would have stayed. But I didn't. I was out for six months and played my third game last week. And that is a couple of months ahead of schedule."
He did not expect to be named in the All Black squad for the tests against France.