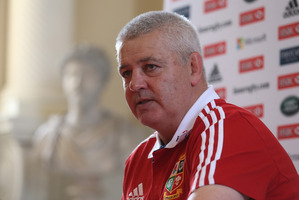 The Lions are ready for widespread rugby battles across Australia and have pledged to continue those tussles with reasoned arguments during their off-field skirmishes too.
The tourists leave on Monday and take with them a promise to match the propaganda delivered by the Australian media.
"I understand the Australian psyche a fair bit and [assistant coach] Andy Farrell helps me with that too," coach Warren Gatland said. "One of the things we have got to be prepared for is to out talk them.
"That's what they thrive on, it is a confidence thing and we have to be vocal."
The Lions staff have talked about plans to overturn the series result from their last visit in 2001 and how to deal with other issues.
They will not bring an Alastair Campbell type of media overseer as Clive Woodward did with such disastrous effect on his ill-fated Lions tour to New Zealand in 2005.
But the 2013 Lions will be on the front foot in dealing with the sports and mainstream media in Australia.
Farrell pointed out how the Kangaroos talked themselves up until the opposition began to think that assessment was correct. In reality they were often no better than other top league sides.
That sort of pattern would emerge, the Lions felt, during their tour and three-test series of Australia.
The Lions were also aware of the whinging reputation Northern Hemisphere teams carried. That had to stop, they just had to get on with the rugby.
Gatland should be well versed about media machinations anyway after spending most of his rugby coaching career in Europe. He also had a long playing career as a hooker with Waikato and the All Blacks and knows what it is like to play against the Lions as he did in 1993 when he scored in Waikato's thumping win.
Gatland follows Graham Henry as a Kiwi coach of the Lions and spoke to the former All Black supremo about those challenges late last year.
"He was very honest about his trip in 2001 and what he learned but the situations were very different. Graham had only been in the UK a few years and I have been here a lot longer," Gatland said. "He learned a lot about himself and from that sort of adversity and disappointment your biggest curve is how you respond."
The 49-year-old Gatland also intends speaking to several Super 15 coaches about the Wallaby rugby scene and their players as the test series approaches.
When the Lions last toured in 2001, the Brumbies won the Super rugby title and that drive for test places was showing through once more this year in the Australian conference.
Gatland was an assistant on the Lions tour to South Africa in 2009 when they all felt a huge responsibility to restore the group's reputation after the ill-tempered previous trip to New Zealand.
"These tours are the only real tours left now and they are worth protecting," Gatland said. "We have a 125-year history and beyond that it generates an enormous amount of money for our hosts. The ARU will make a colossal amount and if we are going to continue to do that and encourage this sort of trip, then we have to negotiate a proper sort of window."
The Lions want to engage with the communities, hold open trainings and embrace the traditional tour values like sharing rooms. They would have a large travelling fan base under a united flag and purpose to make the tour a success and the Lions were determined to give them reason to applaud.