Big lock with a mouth to match gets emotional as he calls time on a long career two tests short of record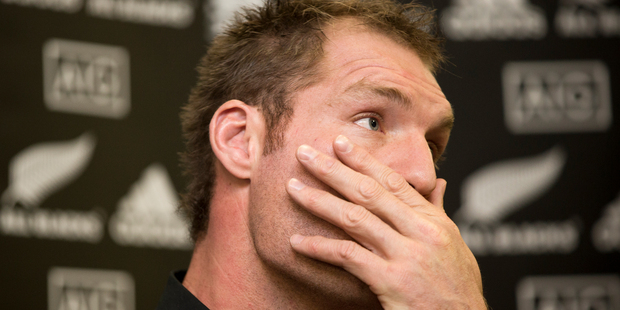 Whatever you think of Ali Williams, his decision to retire from test rugby was spirited.
He wanted to stay but various thoughts kept niggling at him, like the array of facial, knee, ankle and foot injuries which have impinged on much of his work since 2009.
Something told him his time in the black jersey was up; conversations with his father confirmed those feelings. Some time during the recent national training camp, the deed was done.
Williams could have chased Ian Jones' record 79 tests but called time two short.
"I believe in my gut the time is right now. I have had a pretty special time in the jersey but there comes a time when you need to step out and I personally believe this is the right time," he said yesterday.
It got more difficult for the 32-year-old lock yesterday as questions about his life and times at the top brought tears among his emotional replies.
Williams had a decade in test rugby in a remarkable switch from the soccer career he pursued until late at high school.
He brought an athletic prowess and tough mental attitude although his body did not always cooperate with the strains of international rugby.
He retired on his terms, unlike others who fade away or take up offshore contracts.
Sometimes you wondered what air Williams was breathing but there was rarely a dull moment when he was around. He could go too far, as he did during a news conference at the 2011 World Cup, but he was usually good copy.
Assured enough, also, to confront members of the media he thought had done him or his team a disservice. He didn't go for a strength in numbers routine; he would take you on alone.
Mind you, at 2.02m he could deliver a menacing glare from his lofty gaze.
He had been on borrowed All Black time as his body slowed and limbs refused to work as well as they once had, but a lack of other quality locks and Williams' ability to work on the nuances of the game helped him remain in an extended squad.
His knee is hampered by a lack of cartilage but his leadership has been a significant part of the Blues resurgence.
As coach John Kirwan talked about that, and his belief Williams should be classified as an All Black great, the lock started to choke up.
He is an emotional bloke, but had the sense and perspective to know this was the time to go.
"You move on, you've got to, you can't hold on to things or dwell on them, you have to keep evolving, this is what I'm doing," he said.
Williams' strongest memory of his debut test against England at Twickenham in 2002 was fretting about the haka.
It scared the life out of him but he got the actions sorted after some "quality time" in front of the mirror.
The first test against the Lions in 2005 had been one of his strongest but there were others, where his work went unnoticed by the public and the media, which had given him equal satisfaction.
He was having plenty of fun at the Blues and wanted to have another campaign. He wanted them to succeed and to give them all his attention. That had entered his thoughts about All Black retirement, but it was just part of his decision, there were many factors.
He'd watched the All Blacks many times because of his injuries so spectating would not be a novelty.
"Whilst he's been a great player he's also been a good leader and to make a decision to walk away from it when he had a fairly good idea he would have been picked [for the June test series], is a courageous one," All Black coach Steve Hansen said.
He was painted as a funnyman and joker but the real Williams was someone who cared about his rugby mates and the teams he played for.
"Once you get past all the bullshit and the chatter you get the real bloke and the real bloke is a pretty special fella. He keeps you honest, which is important for a coach," said Hansen.
A replacement lock would be called in to the next national training camp at Mt Maunganui tomorrow.
"As an ex-All Black, I'm really proud to be sitting next to [Williams] and calling him a great," Blues coach John Kirwan said.
"When he's an old bugger like us sitting here, he will look back and be incredibly proud of what he's done in that jersey. I'm probably the happiest man here because I get to profit.
"The greatest attribute Ali Williams has is he's prepared to look in the mirror, take on advice and change, and that's pretty hard for all of us to do."
Ali Williams
Age: 32
Height: 2.02m
Weight: 118kg
Provincial: 35 games
Super 15: 97 (Blues) 15 Crusaders
All Blacks: 77 tests and one game