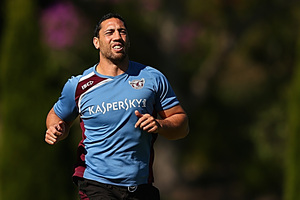 It's been nearly eight years since Manly last lost three consecutive matches at Brookvale Oval, and that record has the Sea Eagles ready for battle tonight.
Consecutive losses to South Sydney and Sydney Roosters in the past month have Manly on the verge of losing three on the trot at Brookvale for the first time since July 2005 when they went down 26-24 in the last minute to North Queensland.
The only survivor from that Manly outfit who will face Canberra tonight is veteran forward Brent Kite; Jason King and Brett Stewart were there, but will miss tonight's game because of injuries.
But it's a losing streak none of the squad is ready to revisit.
"We pride ourselves on winning every game at Brookie and knowing that stat [losing two in a row] we'll have to come out all guns blazing and really take back our home turf," winger David Williams said.
Jamie Buhrer, whose NRL debut was still five years away when Manly last lost three-in-a-row at Brookvale, echoed the determination.
"Brookie is our fortress, it's a place where we love to play and we pride ourselves on making it an atmosphere that you don't want to come and play in," he said.
"And the last two games there we have played some good footy but we haven't come away with the win so we'll be looking to rectify that."
The Sea Eagles take on Canberra on a short turnaround after Monday night's draw with defending premiers Melbourne, where they made an NRL record 419 tackles.
But Buhrer does not believe the club's incredible defensive workload, brought on by a combination of errors, penalties and refusal to concede a try, will takes its toll as the season continues.
"We can keep it up, but we wouldn't like to have to do it all the time," Buhrer said.
"But at this stage we're feeling fine, we're doing the recovery during the week just like any team who has to go through a tough game of footy.
"Our defence is what we pride ourselves on, and we won't be resting on it."
The match also gives Canberra centre Blake Ferguson his last opportunity to impress NSW selectors before the squad for State of Origin one is picked tomorrow.
Manly centre Steve Matai said he could see why the 23-year-old was being considered for a Blues call-up, and said he would be a handful tonight.
- AAP