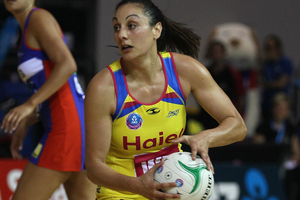 The Central Pulse can be forgiven if they have dared to dream about the playoffs this week.
Usually at this stage of the ANZ Championship the perennial battlers are finding ways to salvage some respectability for their campaign but things are different at the bottom of the North Island this year.
In a congested points table, the Pulse are seventh but are only one win outside of the top four with four games left in their season.
The Pulse host the sixth-placed West Coast Fever in Wellington on Sunday night before they trek south to meet the Canterbury Tactix, which they follow up with the bye before a return clash with the Tactix and they round out their season with a game against the Steel in Invercargill.
It's a nice run in to the post-season but the Pulse have to win their final four games and hope a couple of other results fall their way if they want to play in the knockout stages but they're certainly a side that's due some good fortune.
If they do miss out on the playoffs this year, Pulse coach Robyn Broughton might have a few nightmares over summer thinking about the games her side coughed up when they had leads that only the Warriors could have blown.
The Pulse showed a bit more stickability when they kept to their task with a comfortable 63-48 win over the Mystics last Monday but they still committed too many unforced errors and arguably should have won by at least 20.
Norma Plummer's Fever will be a different beast though and showed their quality as they breezed past the Tactix 64-55 in Nelson last weekend.
Pulse wing defence Joline Henry will be one of the busiest players on the hardwood on Sunday night as she tries to contain the super-charged Fever mid-court of Verity Simmons and Shae Bolton.
"They're a side who plays with a lot of speed,'' Henry said. ``So we can hopefully force them in to lots of errors because they'll want to play.''
Simmons has the third-most goal assists in this year's transtasman netball competition with 132, while the Fever's Caitlin Bassett is one of the most prolific shooters in the league.
Bassett gets strong support from the evergreen Catherine Cox, who celebrated her 37th birthday today (friday), and is showing no signs of slowing down.
Monday's outing against the Mystics marked the first time this year that Henry had got through a full game and her leadership and delivery through court were notable assets for the Pulse.
She has struggled with calf troubles throughout the season but appears to be in decent enough shape to get through 60 minutes.
Pulse skipper Katrina Grant is still managing a nagging foot problem and spends her week in a moon boot to help her recover before lacing up her sneakers.
Despite being hampered by injury Grant has been in career-best form and is in the top three in the competition for both intercepts and deflections.
She can expect another feisty challenge when she has to keep Bassett under wraps this weekend.
- APNZ