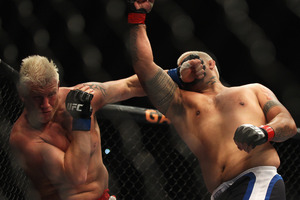 Lollo Heimuli has been around the fight game for more than 30 years.
He's a former champion kickboxer who has trained the likes of Ray Sefo, Shane Cameron, Doug Viney and Jason Suttie and has been in the corner of Commonwealth Games and Olympic fighters.
Heimuli has worked with Mark Hunt as his hands coach for his past few fights and can probably take some credit for Hunt's thunderous knockout of Stefan Struve at UFC on Fuel TV in Japan in March.
Watching highlights of Hunt's knockouts over his lengthy career begs the question: 'Does anyone hit harder than Mark Hunt?'.
When asked if there is someone out there who can strike with more power than Hunt, Heimuli seems to run through every fighter he has come across in his mind before he smiles, tilts his head back and offers: ``Not many''.
Steve Oliver, who has worked with Hunt for a decade, is more convinced of his prized fighter's capabilities.
"He just touches people and they go to sleep,'' Oliver laughs.
Of course, it's no good being a fighter who can throw sledgehammer blows if you can't take a punch.
If you need any evidence that Hunt can cop his share of punishment then take the required 14 minutes and 58 seconds on YouTube to watch the replay of Hunt versus Sefo from the K-1 World Grand Prix in Japan in 2001.
Sefo wins the three-round kickboxing fight on points but some of the blows he delivered to Hunt would have knocked out a rhino.
It was Hunt's ability to give as good as he got that made him a rockstar in Japan during the 2000s and he once told a press conference on the eve of the K-1 World Grand Prix Final in 2001 that he wasn't bothered about the punching power of his quarter-final opponent Jerome Le Banner.
"I have been hit by a truck and that didn't knock me out,'' Hunt responded. "I don't think Jerome can hit harder than a truck.''
Hunt was right too. He knocked the Frenchman out in the second round, went on to become a world champion and claim a US$400,000 winner's cheque and a fighter was born.
- APNZ