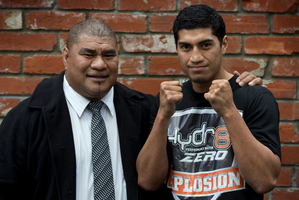 Growing up as the son of a famous All Black, Jordan Tuigamala knows what it's like to be judged against an impossibly high standard.
For much of his life, he simply wasn't interested in sport. When he did finally decide to give it a crack, it's no surprise the slightly-built son of the giant Inga-the-Winger decided to largely steer clear of the rugby field. Instead, he took up boxing, following in the footsteps of famous uncle, David Tua.
In the Tuigamala family, it's the rugby player Inga who is the sporting outcast. His sons, Jordan and Bubba (Vaise), a 125kg heavyweight prospect who also turns professional in coming weeks, were raised at the feet of champions. As well as uncle David, they've hung out with and been instructed by former world middleweight champion Maselino Masoe and former Australasian light heavyweight champ Alex Sua. The boxing bug skipped Inga, but his sons are hooked. Even though he's chosen a different path to his dad, Jordan knows his debut on the upcoming Joseph Parker vs Francois Botha card will attract plenty of scrutiny.
"Yeah bro - a whole lot of pressure," is how he describes carrying the Tuigamala name into the ring. "I wasn't really a sports person, I just wasn't interested in sport. And then when I did start to give it a go, there was no turning back. The pressure was just massive. I'm trying to work on not letting it get to me."
The famous surname cuts both ways. Expectation might be high, but Jordan knows his father's fame gives him a leg up in the publicity stakes. For a professional fighter, gaining a profile is at least half the battle.
"I'm not silly, I know I am getting attention because of my dad and what he has done in the past. I guess I can either shy away from it or I can use it, and I'm just trying to use it the best that I can."
Inga isn't nervous about his sons choosing such a brutal occupation. They've been well coached as amateurs and will learn plenty about themselves in the ring, he reasons.
"They dabbled in rugby but their hearts were in something else, which is fantastic.
'It's a big ask. It takes a lot of courage to step in the ring. It's not all about the sport, it's about embracing the challenges they will face, in the media, being in the public eye. My role is really to teach them life skills. I've said to them 'it's more than just being able to box, it's how you carry yourself'."
Inga has been in the ring in a Fight for Life charity bout. That experience was enough for him.
"It's not good getting whacked in the head, I can tell you that. I was the smart one. I chose a different sport."

Hydr8 ZERO Explosion
Thursday, June 13, Trusts Arena, Auckland
The card
• Jeremy Sebastian vs Marcel Botha
• Sam Rapira vs Viliami Taofi
• Daniella Smith vs Sarah Howett (WIBA women's light welterweight world title fight)
• Nickson Clark (Mai FM) vs Bryce Casey (The Rock)
• Jordan Tuigamala vs James Uoka
• Joseph Parker vs Francois Botha