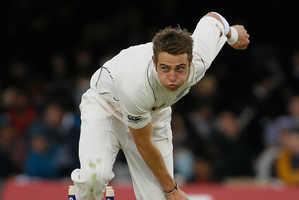 Tim Southee's coming of age as leader of New Zealand's test attack was one of the rosier elements of the first test against England.
Set aside the final-day capitulation a moment, and Southee's 10 for 108 off 47.2 overs shone in a highly impressive collective bowling performance.
Remember, last year Southee wasn't picked for three successive tests - four out of five - because of his ordinary form. He seemed unable to perform consistently.
That was a regular feature ever since his dramatic five-wicket introduction to test cricket against England in Napier in 2008.
Before England arrived to tour New Zealand early this year, Southee had played just five of the previous 11 tests. Injury counted him out of the trip to South Africa, but wobbly form cost him at other stages.
Things changed when he was recalled for the second test against the Indians in Bangalore in August, when he took seven for 64.
Southee impressed in Sri Lanka before Christmas, and had a lean couple of tests against the English before showing his class in the final match of that drawn series at Eden Park.
Lord's was his 25th test and as the accompanying table indicates, he is roughly on a par with New Zealand's leading seamers of recent years.
Simon Doull's statistics at that point are the best of the bunch, although he tailed off a shade over his final tests.
There's not much between the rest and Southee, the 13th New Zealander to take 10 wickets or more in a test, is right in among the field.
For comparative purposes, go back a generation and allrounder Bruce Taylor and big left-armer Richard Collinge posted notable numbers, especially Taylor.
Richard Hadlee had the most wickets, no surprise there, but his average trimmed down as his skill and rhythm was honed to a fine degree in his last 10 years. He finished with his 431 wickets costing just 22.29 apiece.
At 24, Southee has his best years to come. The accumulated cricket smarts he must have picked up in the past five years should bear fruit in the seasons ahead.
Another thought occurred watching the collective skill of Southee, Trent Boult and Neil Wagner at Lord's: are they doing England a favour ahead of their Ashes series?
They put England through a wringer in both innings. Don't forget New Zealand removed England's last eight wickets in the second innings for 54, a comparable effort to the fourth innings, when an inspired Stuart Broad and James Anderson whistled through New Zealand for 68 in 22.3 overs.
Bustling Wagner, harrying and hustling the batsmen, and Boult, with his arresting in-swing, gave England a forerunner of what they may face from another leftarmer, Mitchell Starc, when the Ashes begin on July 10 in Nottingham. Similarly, Southee offered an insight and preparation for Peter Siddle, Ryan Harris and James Pattinson.
England may come to thank Southee and co in time.
As for the second two-digit total of the year, there was a sharp point of difference this time.
When South Africa flattened New Zealand for 45 on January 2, it was as if a boxer had leapt to his feet at the opening bell, run across the ring and clobbered his opponent before he'd even got his gloves up.
This, while equally depressing considering the prize on offer, you could sum up as swing and seam bowling of the highest class in helpful conditions against some batsmen technically unable to cope.
Also, considering events of the previous three days, the size of the challenge for New Zealand was always going to be substantial.
That doesn't excuse 68 all out, but to win they had to make the highest total of the match.
Still, there was Southee's form to savour. He, Boult and Wagner should give New Zealand cause to feel they'll be able to go toe to toe with England in Leeds from tonight.