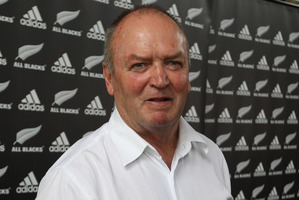 Q: Kamo, what do you think of Graham Henry's criticism of the refereeing and, as a former All Black coach, do you think he should be so outspoken?
Alan, Torbay
A: I don't think Sir Graham Henry is saying anything new or controversial and I applaud and encourage our coaches and rugby commentators in raising and debating the issues of our game. Graham's latest thoughts aren't outspoken, but simply the opinion of a man with a lifetime involvement in rugby and consequently they should be seriously considered. I happen to wholeheartedly agree with Sir Graham regarding the off-side rulings and think this public debut will force the referees to focus more on this aspect of the game which will open the attacking space we are all after. My personal issue is around the fringe defenders who tend to creep up past the hind-most point and stifle the attack at its start point. By penalising and pushing these players back it will produce more space to attack, while not taking away the importance of a sound defensive structure. I understand the referees have a lot to control so this responsibility must lie with the assistant refs who can adjust their vision to get the right call for the sake of open rugby.
Q: Is it fair that the All Blacks were taken out for a camp this week when there are some really crucial matches coming up?
John, Hamilton
A: John it's not very fair for the Super rugby coaches, as there is an uneven mix of players at the camp and logistically some are getting back to their franchise bases at different times, but I think for the good of our national team it is a fair request from the All Black coaches. All Black success is largely down to our prior planning and preparation and if this team can get a few extra days together to ensure that success I see it as a small price to pay. It could even have some upside for the franchises, as they will be getting back into their camps some highly motivated players who have either had their first taste of the next level or been reminded, for the more senior All Blacks, what an energising, empowering environment it is. We are taking on a French side that will be extremely motivated and if not given the due respect could embarrass us to the point that any Super rugby success is a forgotten topic. Trust the experience of the All Black coaches, watch the lift from the WTG players and and we will still see some good team performances this weekend.
Q: What is Rene Ranger's best position? Centre or wing?
Terry, Pakuranga
A: Centre is where I want to see Rene Ranger play. I say this because he is an X-factor player that has so much energy others can feed off and things happen when he has the ball. Because of this we need to give him every opportunity to be involved. He is a threat that challenges the defence and with the additional space that the midfield offers he has been a huge asset to the Blues. Rene is also making, on average, two turnovers per match, which is a skill wasted out on the wings.