Fleming v Vettori - Andrew Alderson measures the achievements of two of New Zealand cricket's most respected names ... and comes up with an answer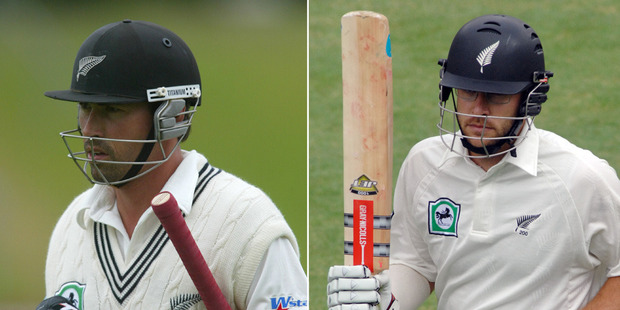 Here's a topic when a long evening of pub contemplation beckons ...
Who has contributed more to New Zealand test cricket, Stephen Fleming or Daniel Vettori?
The natural fence sitting - but probably correct - answer is to say they have added equally in their own estimable ways. This is not about one-upmanship, it is about debate.
The topic is valid tonight with Vettori on the verge of passing Fleming as the most capped New Zealand test player.
Both have played 111 tests (although Vettori is credited with one extra for his 2005 World XI appearance against Australia in Sydney).
Performance
• Fleming
Left-handed elegance personified, especially when caressing a cover drive. Ended up playing the final test innings of his career to float in the 40-plus average club. Known for his buckethands in the slips; ranks sixth on the test aggregate list with 171.
• Vettori
Has any New Zealand bowler since Sir Richard been capable of landing a ball as accurately? Then he started bolstering the country's prowess with his batting. Once his all-rounder status was conferred, rumour had him driving the team bus too, such was his dominance.
Captaincy
• Fleming
Record compares favourably against most - 80 tests, 28 wins, 27 losses, 25 draws. Only Geoff Howarth had a better win percentage. Revered worldwide for tactical and strategic nous after taking over aged 23. Has translated those skills to the coaching realm with Chennai Super Kings.
• Vettori
The obvious successor but had nowhere near the impact. Lacked the players, but his intelligence and immersion in the game remain undisputed. Burdened with too much responsibility, but there was never a hint of complaint about such awkward circumstances.
Triumph
• FlemingTake your pick. Leading New Zealand to a 2-1 test victory in England in 1999, including the sole victory at Lord's, battling out a 0-0 draw with Australia at the height of their powers in 2001-02, or negotiating the players' strike successfully later that year.
• Vettori
Adjusting to tests at such a young age without flinching. Always looked like he belonged, despite playing only two first-class matches before playing his first test against England. Became the second player behind Kapil Dev to get more than 4000 test runs and 300 wickets.
Disaster
• Fleming
Conversion rate. Nine centuries from 46 fifties for a rate of 16.36 per cent never did his batting justice, especially when he made a New Zealand record three double centuries.
• Vettori
The injuries of the last few seasons and his inability to create as much purchase on the ball. Has taken only five wickets in as many tests with limited turn.
Legacy
• Fleming
His business career. Pondering tactical decisions more than using his bat has led to quality business investments, a prime coaching gig and the reassurance there is life after cricket, particularly in India. No one will forget his transformation into an astute captain, but more importantly he avoided becoming a cricketing savant.
• Vettori
Remarkably, New Zealand used only six other specialist spinners during his reign to complement or stand in while he recovered from injury. Add his batting and you have an icon of the New Zealand game whose whole working life has been dedicated to cricket. When his career ends hopefully his skills are broad enough to avoid being typecast.
The simple summation comes in a sentence. Vettori is the better cricketer; Fleming is the better captain.