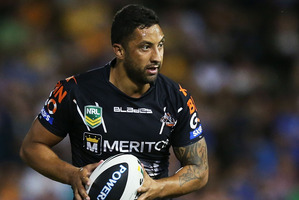 1. Bright lights
Benji Marshall's form slump has come at just the wrong time with reports suggesting some on the Wests Tigers board are balking at plans to offer him a new A$4 million ($4.8 million) five-year contract. His plans to be a one-club man might be thrown into chaos but he's not likely to find much love from the Warriors, if coach Matt Elliott's response is anything to go by. "I don't know if we would be able to afford the plane fares to The Footy Show, and all that sort of stuff," Elliott joked.
2. Weighty issues
One of the myths of the NRL is that the Warriors have a big pack. It's something that has been perpetuated since the Daniel Anderson era when big boppers was a term freely used. Rugby league commentator Andrew Voss, however, thinks the Warriors now look alarmingly small and have been outmuscled over the past couple of weeks by both the Bulldogs and Panthers. "Once the other team was on a roll, the Warriors looked small," Voss said. "They may be fit, but physically, when the other team gets a bit of possession, you get big man running at you after big man.
The Warriors don't quite have that size and that sounds odd saying that about a Warriors team." Against the Panthers, the starting packs were almost identical - the Warriors were only 1kg heavier with a combined weight of 615kg. Against the Doggies, however, they gave up 36kg but it was probably even more given Sam Kasiano is said to be considerably heavier than his official weight of 122kg. This weekend the Knights will field a starting pack weighing 631kg, led by prop Willie Mason (121kg). Bearded prop Russell Packer is the heaviest Warriors forward at 112kg.
3. Turning back time
One of the common criticisms of rugby is the time wasted during set-pieces, but rugby league boffins have made moves to crack down on time wasting in the NRL after it was discovered eight minutes of every match is lost packing down scrums. Rules will be introduced this week requiring teams to be ready for a scrum 30 seconds after one is awarded and the 40-second time limit for line drop-outs has also been cut to 30 seconds. Failure to do so will result in a penalty, but only from round 15 onwards once the rule changes are properly enforced. Imagine what the score might have been in last week's Warriors match if they were forced to play under these rules.
4. Terry Baker
The Warriors lost one of their biggest fans this week with the passing of Terry Baker, who died on Sunday after a long illness. More than 1000 people turned out for his funeral at Mt Smart Stadium on Thursday, including the entire Warriors staff, broadcaster Murray Deaker, former Kiwis and Warriors coach Frank Endacott and Sir Mad Butcher. Baker, a former policeman, was once the Warriors travel manager and twice named Warriors Clubman of the Year (2001 and 2005).
5. Game of the week
Craig Bellamy seems to get annoyed about most things but it will bother the Melbourne coach tremendously that his side have not won in three games. The defending champions seemed to be on a roll earlier this season, winning their first seven, but have since lost two and drawn the other. They were back to their stingy best in the 10-10 draw against Manly on Monday night, which could be a crucial factor against the Roosters on Saturday. Sydney have scored only four tries in their last two games (Manly and Cowboys) after blitzing 36 in the previous five games - but they still won and now sit second on the table behind the Rabbitohs. There are a number of players chasing Origin selection and Bellamy will also be mindful of the fact he's about to lose a handful of players to representative football and won't want to go into that period with another defeat.
6. Set up
The Warriors have their own Set of Six forum each week when they choose six questions from fans to put to a member of the playing staff. This week, it was winger Bill Tupou. Talk about bad timing. A number of questions put by quizzical yet hurting fans centred around why Tupou was laughing and joking with Panthers players after last Saturday's humiliating 62-6 defeat. It's hard to imagine any of those made the cut.