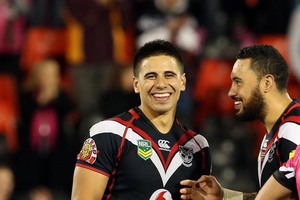 Images of Ben Henry smiling after the Warriors' record 62-6 defeat to the Panthers have been replayed on TV screens countless times since the week but not as often as they have run through Henry's mind.
Henry was one of a handful of players seen smiling, laughing and joking with Penrith players just seconds after their humiliating defeat last Saturday night. It angered fans and cast the club in an extremely poor light.
A lot of damage was done in the 80 minutes of that match but arguably even more in the 80 seconds afterwards.
Henry was unaware of the impact of those scenes until the 21-year-old centre returned to New Zealand the following day and walked into the furore.
"It wasn't until the day after that I got back here that I saw my face in the newspaper smiling,'' Henry said. "It is never my intention to not care. In the Penrith team there are a lot of players I used to play with.
I was catching up with one of them and was smiling. I get it that it's a professional environment and fans and members take it that way. I apologise for that. It was never my intention to not care.
"It brought more negativity to the club and that's the last thing I want as a player. To have those 80 seconds back... I would just to keep to myself. But what's done is done and I just have to learn from my mistakes.''
The Warriors as a team made a number of those last weekend in one of their most inept performances in the club's history -it was a record defeat and the most points they have conceded in a game - and the players met as a group to talk about how they might go about putting things right. A lot of words have been spoken inside and outside the club and halfback Shaun Johnson labelled the discussions "very honest''.
"We were gutted with how we performed,'' said Henry, who is normally seen as a dependable player but who missed two tackles against Penrith that led directly to tries. "We did it to ourselves. We shot ourselves in the foot. It's disappointing for our fans. We just want to show them this week that they mean something and playing footy means something to us by going out and getting a win.''
It won't be easy against a Newcastle side who will be wary of the rebound effect. The Knights were hammered 44-14 by Canberra a fortnight ago but responded with a commanding 44-8 defeat of a resurgent Bulldogs side last weekend.
Coach Matt Elliott named an extended seven-match bench for the match but was expected to narrow that down after tonight's last night's training. Back-rower Todd Lowrie (ribs) is an extremely unlikely starter and doubts remain around whether centre Dane Nielsen (ribs) and fullback Kevin Locke (back) will be fit to play.
The players seem aware of the pressure Elliott is under and determined to put things right on Sunday but only actions will count.
"Hopefully you are going to see 17 blokes giving it their all, trying to get back some dignity and respect from our fans and families,'' Henry said. "And hopefully get a win.''
It might even put a smile on the faces of some fans.
- APNZ