Taking on Junior dos Santos at UFC 160 in Las Vegas will be one of the highlights of Mark Hunt's 15-year career.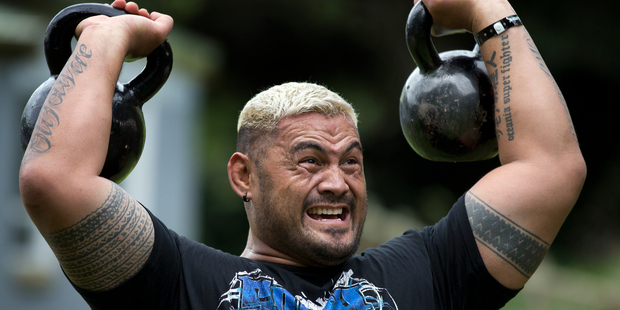 A hill at the Tahaki Reserve in Mt Eden has 70 large steps that Mark Hunt ran up more times than he would like to remember in April.
During a gruelling circuit session with an eclectic group that includes amateur mixed martial arts fighters, a stunt co-ordinator and a body double, Hunt is just one of the boys being put to the sword by conditioning trainer Alex Flint.
"Pain is weakness leaving the body," reads one man's T-shirt as he drops a weighted vest off his massive torso and turns again to run up those 70 stairs that Flint says are more like 140 because the steps are long.
Hunt returns down the hill, sucking in every breath of air he can as he moves to the machine grinder.
From there he will be the one to pull on a weighted vest, bounce up and down with some hefty kettle bells before he turns his attention to those 70 steps again.
Following numerous repeats the session comes to an end.
Handshakes and back slaps are exchanged by the sweaty lot, who all have differing motivations to join Flint behind the Mt Eden-St Barnabas scout hall on an overcast Friday afternoon.
Hunt fits in like he's one of the lads as he shares a laugh and the group pose for a photo.
But Mark Hunt is anything but your average bloke. He's had the sort of life and fighting career that would make a best-selling book and he's still got a couple of chapters to add.
Here's what you might find in the synopsis.
"In his teens, Hunt was involved in an altercation outside an Auckland bar where he knocked someone out cold. One of the bouncers who watched the fight, Sam Marsters, took Hunt under his wing and proceeded to train the raw South Aucklander. In 2001, Hunt became a K-1 kickboxing world champion following a series of impressive displays in Japan in a tournament that he needed two strokes of luck to even get a start. After shifting his attention to mixed martial arts, Hunt became a big-ticket draw in the Pride organisation before he suffered a six-fight losing streak that spanned four years across three promotions. When the UFC took over Pride in 2007, Hunt's contract was included and despite being unwanted by the UFC, he demanded to be given an opportunity. Eventually he was and as of mid-May, 2013, Hunt was on a four-fight win streak, potentially within one knockout of a world title fight."
Which brings us to this weekend, where the Sydney-based Hunt, who is 9-7 and 4-1 in the UFC, will meet Junior dos Santos at UFC 160 at the MGM Grand Garden Arena in Las Vegas on Sunday afternoon (NZT).
It's a heavyweight bout that could see the ninth-ranked Hunt join the elite echelon of the division and matches up two of the purest strikers in the sport in a co-main event that shapes as the most entertaining bout of the night.
But the truth is, Hunt probably shouldn't even be there.
Those 70 steps in Mt Eden are also near a place where Hunt made two unwanted trips in his youth.
"I'd probably be in jail if I wasn't doing what I'm doing," the 39-year-old says. "I changed my life. I went to Aussie to look for a better life. I was always hanging out with the wrong groups of people and being young and doing stupid things.
"There's a jail just over there [in Mt Eden] I was in before I left for Australia and I don't say that out of being funny. It's just a place I didn't want to be and it was a lesson I had learned as a child. So driving past that place, every time I come back home I go 'well, I spent a couple of months in that place' and it just reminds me."
Hunt's four-fight win-streak in the UFC is something of a second or third coming in his career and in 2008 it looked like his days in the octagon were coming to an end.
He was owed three fights by the UFC as per his contract they acquired when they bought out Pride, but they wanted to pay Hunt some cash and wash their hands of him.
But the man who calls himself the "Super Samoan" refused. He was given the chance to fight journeyman Sean McCorkle but was submitted in the first round in September, 2010.
Hunt looked done.
A lifeline was thrown to him when he was matched up against Chris Tuchscherer at UFC 127 in Sydney on February 27, 2011.
Hunt grasped his opportunity, knocked Tuchscherer out in the second round, winning "knockout of the night" honours in the process, and ended a six-fight losing streak.
To show the shift in Hunt's focus he skipped the after-parties following the day-time show because he had to mow his lawns at the Sydney home that he shares with wife, Julie, and three of his five children.
"The thing with losing, that's what has made me the way I am and I've had to pick myself up so many times," Hunt says. "I've never learned much from winning fights. I've learned a lot from losing fights and that's what my foundations are built on."
Following his win over Tuchscherer, Hunt beat Ben Rothwell, Cheick Kongo and won his second "knockout of the night" prize when he sent Dutch giant Stefan Struve in to orbit at UFC on Fuel TV in March.
Hunt's knockout of Struve showed his terrifying punching power and when Alistair Overeem pulled out of his scheduled bout with dos Santos for UFC 160, the Twitterverse rallied to see Hunt given the open slot.
Which leads us to the next chapter in Hunt's enthralling career.
Brazilian dos Santos, 29, is a former world champion, has a 15-2 career record, stands 1.93m, weighs 108kg and has impressive knockout power.
As far as the 1.78m and 120kg Hunt sees it, it's just another day at the office in a lengthy stint in the fight game.
"I've been a world champion already. No one's done what I've done from this side of the world, ever, because as a fighter I've pioneered for my sport at the highest level. I've been one of the few that's been contracted to fight at the top level, so this is just another sport that I've climbed to the top and I'm nearly there. It's not about money, it's about making history and things like that for me and being a pioneer for this side of the world and being the best at what I do."
A visa issue delayed Hunt's departure to Las Vegas following his eight-week training camp in New Zealand from March to May but nothing is ever straightforward for the South Auckland savant.
Hunt's trainer Steve Oliver, who specialises in Hunt's groundwork, says if there's anyone who can overcome the short preparation time to find a win this weekend, it's Hunt.
"Some people are in the right place at the right time to be blessed and he seems to be one of those guys," Oliver says.
"Some guys will struggle and their destiny is to be the one that just about made it. But Mark seems to be the one that takes it all away, all the time."
It's time for Hunt to put a few more words in the next chapter of that book.
nzherald.co.nz will have live updates of UFC 160 from 2pm Sunday.
- APNZ