World and Olympic titles are among the goals as Sarah Walker starts her comeback.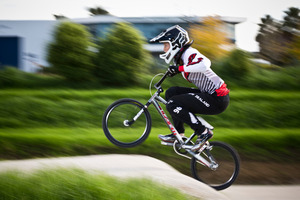 At 24, Sarah Walker doesn't know if she's young or old in the world of BMX racing.
The Olympic silver medallist is involved in a young sport - BMX was introduced to the Olympics at Beijing in 2008 - and trends and patterns have yet to be established.
In Beijing, the women's gold was won by 31-year-old Frenchwoman Anne-Caroline Chausson and two of the medallists in the men's race were separated by 25cm in height (the silver medallist was 1.9m and the bronze medallist 1.65m).
It's a large part of why Walker doesn't really know what her future holds. She's committed to racing until Rio in 2016 but can't think much beyond Olympic cycle to Olympic cycle.
Her plans for Rio, however, are taking shape and one of the most important things she did was have surgery on the shoulder she dislocated in a heavy crash.
It meant five months out of the saddle - her longest hiatus since she was introduced to the sport by her brother as a 10-year-old - and confirmed one thing for her.
"The best thing I got from it was that I love my sport," she says. "I really, really missed it."
What was particularly difficult was that she lives next to the BMX track in Cambridge and she frequently found herself drawn there to offer guidance and encouragement to young riders.
It's something she does naturally. Sarah Walker freely accepts her position as an ambassador for BMX riding, especially after what happened in London, and takes great satisfaction from the fact most Kiwis now know what the sport is.
"That's one of the things I am most proud about in my career," she says. "Almost as proud as I am about winning a medal."
Her profile has increased dramatically since London and she's now one of the faces of the beef and lamb advertising campaign with gold medal-winning kayaker Lisa Carrington - they refer to each other as Beef (Walker) and Lamb (Carrington) when chatting on Twitter - and Paralympian Sophie Pascoe.
It will get another boost when she competes in July's BMX world championships at Auckland's Vector Arena. It's an event she's had to sacrifice to some degree, opting for shoulder surgery as the first step on her next Olympic campaign.
As much as it might have been tempting to get back on the bike before getting the medical all-clear, Walker resisted.
"I wanted to but knew it would be dumb," she says. "It was the biggest injury I have ever had in my life and I don't want it to happen again. It had to heal properly. I didn't want to waste that five months and then start all over again because I got back on two weeks too early."
Walker clipped into her pedals for the first time eight week ago. The world championships are in eight weeks.
The jumps at the indoor track at Vector Arena are expected to be less hair-raising than some, which could suit Walker as she makes her way back to full fitness. She might also have a better idea of her chances after competing in four race meetings in the next six weeks in the US.
But whether she has enough time to be ready is something she's unsure about.
"We will find out. But I'm already where I wanted to be by the end of the year. In that time I did a jump I have never done before, which is crazy. It was really unexpected.
"But the last race I did was the Olympics. Going to the world champs without much racing behind me might be a bit of a stretch. I just need to get some racing in. I'm not expecting to win everything [in the US]. I know where I'm at in my training and I have a wee way to go. I'm just getting some experience again ..."
Walker is a previous world champion, having won in Australia in 2009. She's entirely comfortable with the pressure, expectation and attention that will be heaped on her recovering shoulders.
BMX racing is as much about conquering the mind as it is beating competitors to the crucial first corner. With multiple jumps, some about 10m high, there's little place for conservatism but no place for recklessness.
"It's a scary sport and now I know what can happen to my body. It's the reality of what we do. We can get paralysed, we can even die."
Fortunately, that has not been a trend in BMX racing.
- APNZ