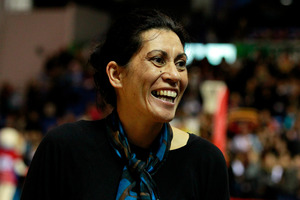 Long-serving Magic coach Noeline Taurua has announced she will step aside from the franchise at the end of the transtasman league season.
Under Taurua's stewardship, the Magic have produced an enviable record of being the only team to make the playoffs every year during the semi-professional era of the ANZ Championship, the only team to make three grand finals and New Zealand's only team to win the competition.
In making her intentions known early, the Magic mentor is hoping for a smoother handover than would happen if she waited until season's-end.
"I am bringing this out in the open now because I have the best interests of the Kia Magic team and the Netball Waikato Bay of Plenty Zone at heart,'' Taurua said. "The end of the competition is a critical time in regards to the negotiation of contracts and the transition period. From what I have experienced from other teams when a coach goes at the end of the season, it can have a negative impact.''
When the season winds up in the middle of July, there is a two-week grace before contracting players for the following year begins in earnest.
"I want to make this whole period as seamless as possible and to leave the zone as a whole and team in the best possible space that I can,'' Taurua said. "And the timing to be able to do that is critical.''
Waikato Bay of Plenty Zone Board chairman John Wiltshire paid tribute to Taurua's longevity and success, saying the whole community would be sorry to see her go.
Taurua is just one of two coaches, along with Jane Woodlands-Thompson (Adelaide Thunderbirds), who have survived the duration of the ANZ Championship, which was launched in 2008.
Before the ANZ Championship, Taurua had five years with its precursor, the domestic National Bank Cup competition, winning the 2005 and 2006 titles.
The only team to make the playoffs every year, the crowning glory being last year's breakthrough ANZ Championship title win, the colourful coach has experienced all the associated highs and lows in between. She now feels the time is right to move on.
"This is my 11th year in this environment which is a long time,'' she said. "I'm thankful for the support that I've had and the many fantastic people I've been involved with over this time.''
Taurua has no firm plans for the future but will continue with the three-year coach accelerant programme, run by High Performance Sport New Zealand, which she was accepted for this year.
The search is set to start immediately to find Taurua's replacement.
- APNZ