A tricky shot from the bog, loose lips sink a job ... and that big golf feud simmers on.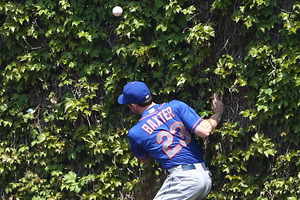 Long drop
Graeme McDowell reached the semifinals of golf's World Match-Play Championship in Bulgaria after knocking out defending champion Nicolas Colsaerts in a match that featured a bizarre moment where his opponent had to take a penalty drop inside a toilet. McDowell fought back from being one down after two holes to win 2 and 1 over his European Ryder Cup teammate on the oceanside Thracian Cliffs course. Colsaerts had the most memorable moment of the day when his tee shot on the short par-4 10th hole flew into a hazard behind a public toilet in a brick building close to the green. Because of where the ball had crossed the hazard line, tournament officials ruled that the penalty drop must be made within the toilet, creating a comical moment that had Colsearts, his caddie and rules officials all laughing.
Potty mouth
Comcast SportsNet Chicago fired sports reporter Susannah Collins this month, according to the sports media website Sherman Report. The firing came days after she botched her comments about a Chicago Blackhawks hockey game.
While she was apparently intending to say the team had "a tremendous amount of success", she slipped up and said they had "a tremendous amount of sex". But, the Chicago Tribune reported that Comcast SportsNet Chicago's vice-president and general manager Phil Bedella claimed the firing was "unrelated to her on-air remarks" about the Blackhawks. Apparently, Collins has been in strife before this gaffe. The Sherman Report noted that because the error went viral, Collins' role in YouTube videos for a series called "Sports Nutz", which were posted a few years ago, have got attention as well. The Tribune reported that in those "Sports Nutz" videos, Collins "pushed the boundaries of sports journalism - and good taste - with sexually explicit reports and potentially offensive racial stereotypes". For example, Collins' contributions to the videos include "everything from rowdy man-on-the-street interviews to a dramatic reading of the sexual exploits of former NBA player Darryl Dawkins". Collins posted a statement on her website calling her SportsNutz videos occasionally "off-colour and offensive."
Garcia v Woods
May 11:"Well, obviously Tiger was on the left and it was my shot to hit. He moved all of the crowd that he needed to move. I waited for that. I wouldn't say that he didn't see that I was ready, but you do have a feel when the other guy is going to hit, and right as I was in the top of the backswing, I think he must have pulled like a 5-wood or a 3-wood and obviously everybody started screaming. So that didn't help very much." - Garcia during a rain delay in the third round of The Players Championship.
"Well, the marshals, they told me he already hit, so I pulled a club and was getting ready to play my shot, and then I hear his comments afterwards, and not real surprising that he's complaining about something." - Woods after the third round was suspended because of darkness.
"That's fine. At least I'm true to myself. I know what I'm doing, and he can do whatever he wants." - Garcia after hearing what Woods said.
May 12: "I'm not going to lie, he's not my favourite guy to play with. He's not the nicest guy on tour." - Garcia after the third round was completed.
May 20: "No." Woods at media day for the AT&T National, when asked if he had given any thought to contacting Garcia to put their dispute behind them.
"He called me a whiner. That's probably right. It's also probably the first thing he's told you guys that's true in 15 years. I know what he is like. You guys are finding out." - Garcia at a sponsor dinner in London.
May 21: "The problem is, I'm one of the guys that has to say something. A lot of people think about it, but don't want to say anything. He can and will beat me a lot of times, but he is not going to step on me. I'm not afraid of him." - Garcia at his press conference at the BMW PGA Championship.
"We will have him round every night. We will serve fried chicken." - Garcia at a European Tour awards dinner, asked if he planned to have dinner with Woods at the US Open.
"I apologise for any offence that may have been caused by my comment on stage during the European Tour Players' Awards dinner. I answered a question that was clearly made towards me as a joke with a silly remark, but in no way was the comment meant in a racist manner." - Garcia in a statement issued by the European Tour after the dinner.
May 22: "The comment that was made wasn't silly. It was wrong, hurtful and clearly inappropriate. I'm confident that there is real regret the remark was made. The Players ended nearly two weeks ago and it's long past time to move on and talk about golf." Woods on Twitter.
"I want to send an unreserved apology. I did not want to offend anyone. My answer was totally stupid and out of place." - Garcia at his second press conference.
"It was a funny question and I wanted it to be a funny answer in reply. I started to get a sick feeling straight after the dinner and I felt so bad I thought my heart was going to come out of my body. I felt bad about it all day." - Garcia at the press conference.