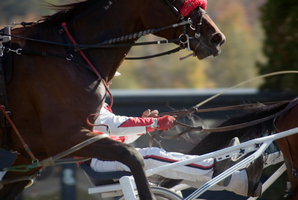 Christen Me has arrived at that loftiest of racing positions - where his rivals no longer think they can beat him.
And even the superstar 4-year-old's trainer Cran Dalgety is starting to believe it.
Christen Me headlines a group of key Harness Jewels contenders who will have their final warm-ups at Addington tonight and he takes on another division favourite in Elusive Chick. The latter's trainer Tim Butt says his mare is running for second at best but more importantly for Jewels fitness.
"She had a blood complaint when beaten at Rangiora recently but her latest blood report came back perfect," said Butt.
"But we know we can't beat Christen Me because he is at that next level. So I'd like to see her run second or third and get some respect for Jewels Day."
Steven Reid, who trains Easy On The Eye, has adopted a similar attitude, saying he would be happy to see driver Peter Ferguson take a trail behind Christen Me with the renowned frontrunner if pressured.
While Christen Me has earned that respect after a phenomenal season, Dalgety says he is still shaking his head at the seemingly endless improvement curve. "We worked him on Tuesday morning on a really wet track and he was just a monster," says Dalgety.
"You would think after what he did at Alexandra Park recently he couldn't get much better but I think he has."
While that suggests only bad luck can stop Christen Me, another Jewels favourite has bad manners as his biggest concern in his final lead-up.
One Over Da Moon has looked the best juvenile trotter in the country but galloped wildly at Addington last start, breaking his gear and punters' hearts.
His trainer Paul Nairn will take the reins tonight in a race where most of the Jewels trot favourites clash.
"I have been working on his shoeing to make him trot a little cleaner and have taken his blinds off to stop him getting as fired up as he did last start," said Nairn. "But he gets very 'racey' around other horses, so, while I think he should do things right this week, he is one of those horses you can never be sure with."
Earlier in the night, NZ Derby winner Border Control takes on Classiesistar, Elios and Mista Mara in a handy lead-up to the 3-year-old Emerald, which is looking one of the best races of the Jewels meeting at Ashburton on June 1.