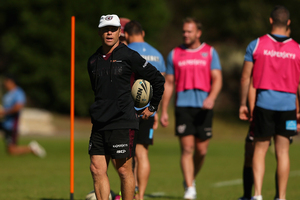 Angry Manly coach Geoff Toovey savaged the NRL over "ridiculous, knee-jerk" decision-making yesterday, following mid-season rule changes intended to speed up games.
The NRL's Competition Committee said that from round 15 this season they were introducing a 30-second time limit for scrums to be packed, while also reducing the time limit for line drop-outs from 40 to 30 seconds.
The moves are aimed at eradicating time-wasting from NRL games, which the league revealed was eating up as much as eight minutes per contest.
But Toovey, whose side played out a 90-minute draw with Melbourne on Monday night, said the mid-season rule changes had to stop.
The latest changes follow in the footsteps of the shoulder charge ban, which was introduced one week before the finals series last year.
"I think it's ridiculous and, again, why are they changing the rules halfway through a competition?" Toovey said.
"Why can't we sit down and do this all in an orderly fashion at the end of the year? I don't know, it's got me puzzled.
"Do we need to speed the game up any more? Did anyone see the game on the weekend [between Manly and Melbourne]?
Toovey said he wasn't against rule changes in general, simply that during the middle of the season wasn't the time to be doing it.
Manly prop George Rose wanted to wait until the rules were formally introduced next month before expressing how much they would change the game.
"You've usually got one team rushing to the scrum to get the ball back and the other one's slowing it down," Rose said.
"I guess I won't know [how much it will affect me] until we start doing it."
- AAP