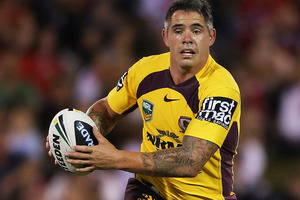 Bad boys and blasts from the past topped the fantasy scoresheets in round 10 of fantasy NRL.
Broncos 32 Titans 6
The star: Corey Parker (77pts) - This is the kind of form Corey Parker used to be famous for in Fantasy NRL - and it was down to his return to kicking duties for the Broncos. Eight two-pointers to go along with his usual tally of tackles and yards made him unstoppable in fantasy terms.
The dud: David Mead (14pts) - this must be the lowest fantasy score of the season for someone who scored a try in a game. Unfortunately Mead didn't do much more than dot down in this match.
Value pick: Ryan James (39pts) - he's featured in this slot before this season but he's had a quiet past two games. He's a very good bench addition for just 100k.
Rabbitohs 54 Wests Tigers 10
The star: Greg Inglis (56pts) - this is what happens when you score four tries in a game. The Tigers are a mess defensively right now so well done to those who got Inglis in their side for this matchup.
The dud: Joel Reddy (15pts) - The Tigers also happen to be a mess offensively and Reddy is suffering as a result.
Avoid for the rest of this season.
Value pick: Jeff Lima (35pts) - Lima's been playing more minutes lately and that's reflecting in his tackle-counts. Another solid bench option for 119k.
Dragons 32 Eels 12
The star: Josh Dugan (48pts) - Dugan returned to NRL action in style in his first game for the Dragons - two tries, two line breaks and over 200m gained. Keep an eye on him going forward as he could become a great back option for your team.
The dud: Ken Sio (10pts) - he's been here before due to not crossing the tryline since his double in week one. Avoid.
Value pick: Pene Terepo (45pts) - this young Kiwi playing for the Eels appears here courtesy of two tries for 117k. Unfortunately, without the tries, he's not a serviceable fantasy option.
Panthers 62 Warriors 6
The star: Kevin Kingston (48pts) - he's been money over the past five games, averaging 46 points. He's found his role with the Panthers and is a safe option in your front row.
The dud: Shaun Johnson (13pts) - maybe Matt Elliott had Johnson in his fantasy team and benched him out of frustration. Johnson needs the Warriors to find some offence before he goes back to being an option for fantasy players.
Value pick: Isaac John (41pts) - Todd Lowrie could be here again too, but John's more interesting. Playing just his second game this season he scored three tries against his old club. I wouldn't count on the form continuing but at 124k he isn't the worst back to gamble a roster spot on.
Cowboys 8 Roosters 12
The star: Jake Friend (60pts) - his best fantasy score of the season came courtesy of a whopping 52 tackles made. He's a relatively expensive (416k) but safe bet for your front row.
The dud: Ashley Graham (9pts) - another dud this week from Graham as he was shut out offensively for the second week in a row. At 517k he's at best a matchup option for you and this coming weekend could be the exact time to use him (the Cowboys play the Tigers).
Value pick: Robert Lui (36pts) - playing just his second game this season after a long layoff from rugby league, Lui turned up and filled the stats sheet. He could be a great cheap option (125k) at halfback this coming weekend.
Sharks 30 Raiders 20
The star: Jayson Bukuya (57pts) - we have him listed as back in this game but he's definitely a back rower and that was reflected in his tackle count in this game (38 tackles). He saw increased minutes this week and he made the most of them. Warriors fans will be hoping he can do this next year when he joins his new club.
The dud: Reece Robinson (9pts) - after two decent weeks in a row, Robinson was shut down by the Sharks. He'll bounce back.
Value pick: Chris Heighington (45pts) - he's found form the past three weeks and if he can sustain that level of play he'll be a great fantasy option in your second row for 176k. Keep him on your watch list.
Knights 44 Bulldogs 8
The star: Kurt Gidley (58pts) - Gidley did everything in this one and is a must-have for all fantasy lineups.
The dud: Josh Morris (5pts) - so many Bulldogs players flopped in this one and Morris was especially absent. He'll be back though.
Value pick: Joseph BJ Leilua (41pts) - another bad-boy-comes-good story for the week. Playing in his second game of the season after being dumped by the Roosters last year, Leilua was great going forward for the Knights. Another player to keep an eye on going forward for 200k.
Storm 10 Sea Eagles 10
The stars: Matt Ballin (71pts) - that's right, you read it, no Cameron Smith at the top, though he came close (68pts). Ballin made an unbelievable 67 tackles as part of a superb defensive effort by the Sea Eagles. He's a beast.
The dud: Steve Matai (14pts) - there weren't many duds in this game but Matai has been struggled in the fantasy world the past three games as his side came up against tough opponents. He'll bounce back as their schedule eases up.
Value pick: Tohu Harris (37pts) - he's been great this season and, at just 228k in the second row of a strong side, you could certainly do worse.