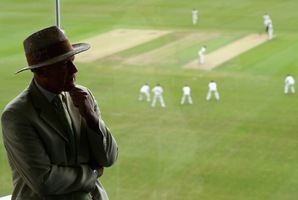 New Zealand coach Mike Hesson could be forgiven if he sat bolt upright last night, jumped out of bed, donned the slippers, turned on the laptop and googled "Boycott, G" in the Yorkshire telephone book.
Geoffrey Boycott could be a golden source of intuitive knowledge for batting at Headingley as Hesson seeks solutions to his side's second innings batting collapse for 68 at Lord's. Presuming Boycott would co-operate, of course...
Yes, it might be a touch reactionary and maybe captain Brendon McCullum's reference to the Lord's "hour of madness" really is a fleeting blip rather than a semi-permanent state in the New Zealand batting ranks. However, if you want home truths - as unpalatable as they may be - and lessons in the fundamentals of batting, especially at Headingley, Boycott is your man.
Please turn away now if you are a fan seeking solace in the fact this was the venue for New Zealand's first test win in England in 1983.
The reality is no New Zealander has scored a century at the ground in six tests dating back 64 years. Stephen Fleming came closest in 2004 with 97; Brun Smith made 96 in 1949 and John Wright led the way with a first innings 93 in New Zealand's solitary Leeds triumph.
But back to Boycott. In a 17-year, 108-test career only Don Bradman can match him for test centuries at the ground. Boycott has four, including 115 against New Zealand in 1973. He scored 897 runs in 16 innings at 59.80, not to mention days (and probably weeks) at the crease in a 24-year first-class career with Yorkshire.
Boycott immerses himself in a host of media commitments these days as well being the elected president of the Yorkshire County Cricket Club. He was often spied in New Zealand over summer modelling a fetching mauve sweater when filmed for cricket website cricinfo.com. The 72-year-old might not be free to commit this week, but surely he'd be worth a crack. He knew how to protect his wicket as well as anyone in the game.
If legend is to be believed his left pad coming forward was like a solar eclipse to bowlers.
No daylight to be seen there. Teammate Ian Botham even had to be sent in against New Zealand at Lancaster Park in 1978 to run him out.
In March, the Telegraph newspaper reported Boycott had bought a 1.75 million pound Georgian-era mansion in Boston Spa, about half an hour's drive north-east of Headingley. Perhaps it's time the New Zealanders piled on the team bus and shouted 'Boycs' morning tea.