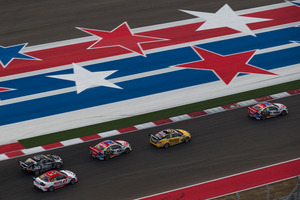 The top four drivers in the V8 Supercars championship have all been penalised after Ford's Will Davison joined a star-studded naughty list following the sport's American debut.
Davison was docked 25 championship points for reckless driving after an incident in which he slammed into Holden driver Scott McLaughlin during the fourth race in Texas, wrecking both cars.
It capped a miserable weekend for the Ford Performance Racing driver, who fell off the championship pace with poor results in Austin.
His did-not-finish in race four was particularly bad for business, as Holden's Jamie Whincup won three of the four races to extend his championship lead.
Whincup, Red Bull Racing teammate Craig Lowndes and Holden's Fabian Coulthard were also docked points as stewards burned the midnight oil to work through a list of race misdemeanours as long as the Circuit of the Americas straight.
But their 30-point penalties for jumping the restart in race three mean little change to the championship picture as all the top drivers were penalised.
Whincup leads Lowndes by 142 championship points. Davison slips to third 213 points adrift of Whincup, with Lockwood Racing's Coulthard 50 points further back.
With more than 68,000 fans attending the three-day event, most are labelling the V8s' American adventure a resounding success.
But drivers have suggested spicing up the racing - in which most of the bash-and-crash was mid-pack rather than at the front of the grid - with the addition of soft tyres.
Officials allowed cars to race only on a hard compound tyre, worried about tyre degradation on the unfamiliar track.
Soft tyres allow better grip, more speed and later braking into corners, though they wear far quicker which also means more pit stops and shuffling of on-track positions.
"To spice up the racing, I think a soft tyre would make the racing a bit more exciting and see a bit more action," Coulthard said.
"We all thought the degradation of the control tyre we normally run would have been a lot more."
Most drivers are now staying on in the United States for sightseeing - many heading to the legendary Indianapolis 500 at the weekend where Australian Will Power is on the second row of the starting grid.
Whincup is off to Alcatraz and the Grand Canyon, while Red Bull teammate Lowndes is taking a different route - heading to Canada for some mountain biking.
The next event of the series is in Darwin from June 14 to 16.
- AAP